Rugby League Betting Guide for 2023
Rugby league betting in Canada is something that looks sure to grow in the coming years. This is because in 2025 the country is co-hosting the Rugby League World Cup.
In the meantime, this is our guide to betting on this sport. What can you expect to find on this page?
A list of the very best rugby league betting sites on the internet
Essential information about this sport and key dates in history
Details of bet types and an explanation of how rugby league odds work
Top Rugby League Betting Sites for Canadian Players
How we Review the Best Rugby League Betting Sites
How to Sign Up to a Rugby League Betting Site
An Introduction to Rugby League
There are 13 players in rugby league – think of it as rugby union without the flankers for scrums

Lineouts aren't part of the game and you are given six chances to score a try or goal

Tackles indicate phases of play before changeover

The pace of rugby league matches tends to be quicker, because a team can only have possession of the ball for those six tackles

Rucks aren't formed in rugby league. Once tackled, a player must play the ball

Tries are worth four points in rugby league instead of five, but conversions still have a value of two

Penalty kicks over the posts are worth two points instead of three, and a drop goal one not three

Like rugby union, video referees are now part of the match officials involved in top level games of rugby league

Yellow cards lead to a player being put in the sin bin for 10 minutes

Red cards are a straight sending off and only issued for serious foul play or violent conduct
How Rugby League Odds Work
In order to fully understand rugby league odds, novice bettors will benefit from having how it all works explained to them. So, we're going to look at an example:


Toronto Wolfpack
1.50


Bradford Bulls
3.00
Toronto Wolfpack, who play in the English rugby league structure, face Bradford Bulls. As Wolfpack are the shorter price, they are betting favourites.
For every $2 staked on Toronto at those odds, $1 profit will be made. The total return on such a bet is $3.
Bradford, meanwhile, are outsiders in the betting. The same $2 stake would return $6 should they win – that is $4 profit.
We've used decimal prices in explaining rugby league odds to you, but the American moneyline system is another way of expressing those. Fractional prices, which include odds for a tie, are also popular on British-based betting sites. You can compare these using our odds calculator.
Rugby League Betting Options
Now that you understand rugby league odds, it's time to look at betting types. Here are some of most popular wagers placed by people betting types. Here are some of most popular wagers placed by people gambling on this sport:
To win

Rugby league betting can be as straightforward as picking the winner of a match.

Eg:

Toronto Wolfpack

1.50

Bradford Bulls

Handicaps

A number of brackets and margins are available on both betting favourites and underdogs in rugby league. This is known as handicap betting.

These are imagined deficits for fancied teams to overcome and still win, or pretend advantages for the underdogs to hang onto.

Eg:

Wigan Warriors

2.00

Winning margin or Spread betting

Spread betting is where you bet on points brackets within which a team's margin of victory needs to be. A winning bet is said to have covered the spread.

Some winning margin bets don't have an upper limit, just a minimum threshold.

Eg:

Wigan Warriors

2.63

Tryscorer markets

A number of tryscorer markets are also available. Will a certain player cross the tryline first, last, next or anytime?

Eg:

Zak Hardaker

2.75

Halftime/Fulltime

What will the result be halfway through a rugby league game and then at the final whistle? There are nine possible permutations to bet around.

Eg:

Leeds Rhinos / Bradford Bulls

Grand Final winner

Futures betting is available on who will the Grand Final of major leagues like the NRL and Super League. Remember, this isn't who tops the league but comes through the end-of-season playoffs.

Eg:

Sydney Roosters

3.10

Regular season winner

This type of futures betting is on which rugby league team will finish the regular season top of the table?

Eg:

Warrington Wolves

5.00

Top X finish

Depending on how many spots in a rugby league division are open for playoff places, you can get futures betting around that.

Eg:

Wakefield Trinity

2.38
Bonuses
One thing all rugby league betting sites must offer you to be worthwhile is bonuses. Ideally, they'll provide each of these three different types of promotion:
Welcome Bonus

If you aren't getting something for joining a sportsbook, then don't bother with it
Welcome bonuses are there to incentivise you to sign up to a betting site and for new customers only
You may need to use a promo code, make a real money deposit and/or place qualifying a bet or bets to unlock this bonus

Enhanced Odds

Sportsbooks will sometime temporarily increase the odds on a fancied outcome
These are commonly called enhanced odds or price boosts, and are available to both new and existing customers
Speed is of the essence to take advantage of such offers as they're only usually there for a limited time

VIP Club

Like to bet regularly? Then have your sportsbook loyalty rewarded with weekly bonuses
That is the basic principle of a VIP Club, which again is open to new and existing customers on betting sites
Just make sure you opt in and keep up the commitment by placing bets that qualify within the timeframe each week
Mobile Rugby League Betting
The digital revolution has brought great strides in mobile technology and that includes within the gambling industry. Mobile rugby league betting is very much part of that, but what are the benefits of placing wagers through your smartphone or tablet?
We take digital devices with us wherever we go, so you've got easy access to betting markets

This is because all major betting sites have developed apps compatible with Android and Apple operating systems

Mobile rugby league betting and that of many other sports is thus available to you anywhere where there's an internet connection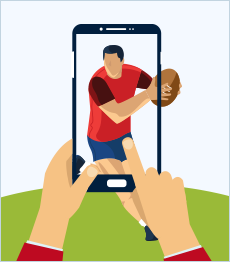 What is Rugby League Live Betting?
Live betting on sporting events as they happen is becoming more popular

Sportsbook traders constantly update odds as the action unfolds

Many sports are particularly suited to in-play prices and rugby league live betting is among those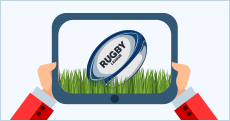 A Brief History of Rugby League
These are some of the key dates from the history of rugby league:
The sport of rugby league is formed when northern rugby union clubs in England breakaway from the Rugby Football Union (RFU)
1895
The Challenge Cup is first held
1896
Rugby league players become professional, long predating their rugby union counterparts
1898
The first rugby league international takes place between England and other nationalities
1904
Rugby league becomes a 13 players per side game, reduced from 15
1906
Huddersfield Giants become the first rugby league club to win the treble of Challenge Cup, topping the league and championship final
1913
The Northern Union becomes the Rugby Football League (RFL)
1922
A world governing body for the sport, the Rugby League Imperial Board now called Rugby League International Federation (RLIF) is founded
1927
The Rugby League World Cup is held for the first time
1954
The State of Origin game between Queensland and New South Wales is played for the first time in Australia
1980
Wigan Warriors become the only three-time winners of the treble in rugby league
1995
Super League is founded in England
1996
National Rugby League (NRL) is formed in Australia as "the Super League War" Down Under ends
1997
Canadian rugby league club Toronto Wolfpack enters the English structure and wins RFL League One in their inaugural season
2017
Canada is to co-host the Rugby League World Cup for the first time, along with the USA
2025
Conclusion
We're done with our guide to rugby league betting in Canada. Keep your eyes on this sport in the coming years as its popularity is sure to grow.
If you need any additional rugby league betting advice, then our FAQs section can provide further guidance. Check it our for common questions and those all-important answers?

FAQs


How does rugby league betting work?
Find the rugby league betting you want to wager on. Add the bet to your slip, enter your stake and place it. That's all there is to it.


What are the best sites to bet on rugby league?
Our experts have picked out the very best rugby league betting sites for you on this page.


Can I bet on rugby league on mobile?
Rugby league mobile is available to you through sportsbook apps which are compatible with Android and Apple devices and can be downloaded for free.


What are the most popular rugby league bets?
The most popular rugby league betting types are:
To win
Handicaps
Winning margin or Spread betting
Tryscorer markets
Halftime/Fulltime
Grand Final winner
Regular season winner
Top X finish


Is rugby league betting legal in Canada?
Indeed. Rugby league betting in Canada is totally legal through a licensed sportsbook.


What is rugby league live betting?
Rugby league live betting gives you the chance to bet on a game while it's happening. Betting traders keep the odds updated in reaction to what happens on the field of play.


What is rugby league spread betting?
Spread betting is available on rugby league and allows you to gamble on margins of victory for fancied teams. Sometimes there'll be a defined points bracket, while other markets just specify a minimum threshold. Winning bets are said to have covered the spread.