NCAA Football Betting Guide for 2023
Nearly 500,000 athletes compete annually in events run by the National Collegiate Athletic Association.
Football is one of the biggest college sports enjoyed by fans in the United States and Canada. Spectators can get extra involvement in the action by taking advantage of a host of online NCAA football betting opportunities.
In this guide we'll tell you:
How betting on NCAA football works
What people who love NCAA football like to bet on
How to begin live betting on NCAA football
Top Football Betting Sites for Canadian Players
An Introduction to NCAA Football
People who love top-quality football action have plenty to keep them entertained from venues across the United States.
NCAA football has a long history and pre-dates the NFL by decades

It is considered the second tier of football in the United States and Canada behind the NFL

There are four levels of college football, with 124 teams in the highest, the Football Bowl Subdivision, divided into 11 conferences

Champions in each conference play off in Bowl games

Since 2014, there has been a College Football Playoffs knockout tournament to determine a national champion

Four teams are selected to play in the semi-finals, with the winners meeting in a single final

Players who shine in NCAA football action have the best chance of taking the next big step up to the NFL
How NCAA Football Odds Work
You can bet on on NCAA Football in exactly the same as you can wager on the NFL. This is a simple guide to how the odds work.
Take the example of a match between Ohio State and Alabama. The odds, expressed as decimals, may read:


Ohio State
1.7


Alabama
2.25
If you stake C$10 on Duke, the favourite, you get back C$17. If you put C$10 on Washington, the underdogs, and they win your return is C$22.50.
Odds can be displayed in other formats, such as fractional and moneyline (also known as American) odds.
Most sportsbooks, however, allow you to swap between systems so you can choose how to view the odds. Have a go at our Odds Calculator to see how they compare.
NCAA Football Betting Options
Match Bets
The point spread

Also known as handicap betting. The sportsbook sets a figure predicting by how many points one side will win, then gives you a 50-50 choice. You have to decide whether you think one side will win – or lose – by more than that margin.

Eg:

Oklahoma
-5.5

1.90

Georgia
+5.5

1.90

The moneyline

This time there isn't a handicap, simply a straight choice. Which team is going to win the match?

Eg:

Clemson

1.70

Pittsburgh

2.25

Total points – over or under

Another simple question: How many points will the teams score in total? If you think it'll be a lower-scoring match than the sportsbook does, it's the unders for you.

Quarter bets

Which side will score more points in the first quarter?

Eg:

Northern
Illinois

1.65

Buffalo



2.25

Prop bets

Proposition bets, to give them their full name, are unrelated to the overall outcome. These are special markets on things that might happen during a game.

Eg:

Mecole Hardman to score
the first touchdown

3.5
Season Bets
To lead the Conference

If you are confident a team will win its conference, you will get better odds if you wager on them well in advance.

Eg:

To win the Big Ten:
Michigan

4.0

To win the Playoff National Championship

This may be a long way off, but sportsbooks will offer markets about the big game at the end of the season well before anyone knows who's playing.

Eg:

Alabama Crimson Tide

21.0
What is NCAA Football Live Betting?
It's now possible for bettors to wager once a game has started

Sportsbooks will offer odds that change according to the way the action ebbs and flows

It's possible to bet on markets such as who wins the next quarter

However, you can still wager on the final result of the match

It's an extra layer of enjoyment to be able to wager when you think you know what's going to happen next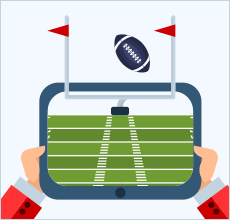 Brief NCAA Basketball Timeline
The first intercollegiate game is played, between Princeton and Rutgers
1869
The first night-time match is staged as the sport expands rapidly
1892
The NCAA, established four years earlier, takes its new name
1906
Georgia Tech beat Cumberland 222-0 in the most one-sided game in college football history
1916
Creation of football's four Bowl games – Orange, Sugar, Sun and Cotton
1930s
Oklahoma wins its third national title of the decade
1956
By now there are 19 bowl games
1990
For the first time, all major conferences meet in the Bowl Championship Series
Tennessee wins the first BCS Championship Game
1998
Alabama wins the BCS Championship Game for the third time in four years
2012
Recent College Football National Championship Game Winners
2018

Clemson
Tigers

2017

Alabama
Crimson Tide

2016

Clemson
Tigers

2015

Alabama
Crimson Tide

2014

Ohio State Buckeyes
Conclusion
Betting on NCAA football is hugely popular among fans in Canada. Now that, it seems, virtually everybody owns a smartphone, and given the user-friendly nature of sportsbooks' apps, it is increasingly easy to get involved.
To find out everything you could want to know about football betting in Canada, check out our home page.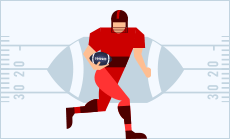 FAQs


What is the NCAA?
The organization with overall responsibility for college sports in the United States. Football is one of the most popular sports it oversees.


What are the most popular NCAA football bets?
The point spread is a trusty favourite for football bettors. It offers them a chance to pit their wits against a handicap set by a sportsbook.


What are the best NCAA football betting sites?
Our online betting guide gives you all the advice you could need when choosing one of our recommended sites. The areas we suggest you focus on are security, licensing, range of bets and bonuses.


Can I bet on NCAA football on mobile?
Most definitely. Apps that can be used on virtually any device are now a feature of most sportsbooks.


What is NCAA football live betting?
Even after the game is under way, you are able to wager on the live action – as well as the overall result.