Best NFL Fantasy Football Betting Sites
Have you ever questioned a manager's selection or spotted the next big star before others when watching the NFL? Well in that case, NFL Fantasy Football betting could be the chance to prove yourself.
Put your American Football knowledge to the test, without even having to leave the house, in an attempt to win real money prizes.
On this page, you'll discover:
What NFL fantasy football is
The best fantasy football betting sites
Our fantasy football betting tips
Top Fantasy Football Betting Sites in 2020

CANADA'S FAVOURITE

1
Fantasy Draft
Payment Methods




$3,864,206.00
Mega Moolah Jackpot
Play for the




$3,864,206.00
Mega Moolah Jackpot
Play for the

2
Boom Fantasy

3
ESPN Fantasy
What is NFL Fantasy Football?
Fantasy football websites allow you to emulate the best coaches in the NFL, giving you the chance to step-num into the shoes of Bill Belichick, Andy Reid and Pete Carroll. They also offer the most interactive type of NFL betting, requiring constant thought and tinkering to be the best.
Luckily for you, it's really easy to play fantasy football online. Just follow the step-nums below on how to play NFL fantasy football, and you'll be at the helm of your own team in no time:
0

10 Steps

How to Play NFL Fantasy Football

1

Use our recommendations to pick the best fantasy sports betting website for you.

2

Join an NFL fantasy football pool – joining can cost anything from a few dollars through to hundreds.

3

Research the NFL, identifying the best players in each position while taking into account the league's scoring system.

4

Select the best players for each position, without spending over a certain amount.

5

Sit back and watch as your players take part in real NFL games, keeping track of how many points each player is earning.

6

Is one of your players not performing? If not, you'll be able to trade him throughout the season and bring in a replacement.

7

Continue watching games throughout the regular season, all the while making changes to your line-up.

8

If you manage to finish near the top of your league, you'll find yourself heading to the playoffs. If not, that's your season over.

9

The playoffs then take place, with the winner taking down a prize, as well as the recognition for being the top fantasy football player.

10

Repeat the whole process all over again when the next NFL season gets underway.

11

Ready to play?


Pick a fantasy
football league below
Sal Vetri's Expert NFL Fantasy Football League Tips
Fantasy Sports expert Sal Vetri, who has his own dedicated YouTube channel on the topic, talks us through all you need to know about the top leagues to play. Including a basic overview, strategy, tips and pros & cons on each.
Watch the short videos below to learn more about each NFL fantasy football league and choose the right one for you. Then, when you are ready, you can pick one of our recommended sites to start playing.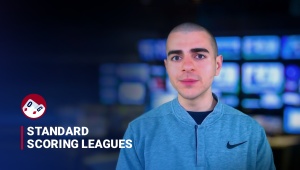 Touchdown Only Scoring Leagues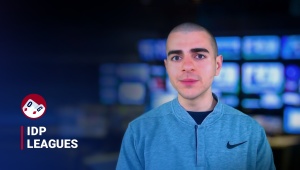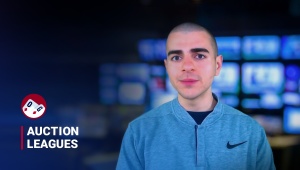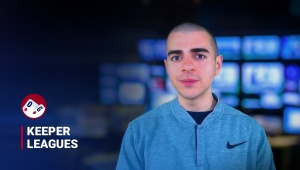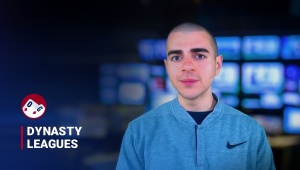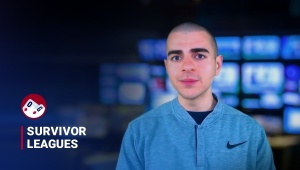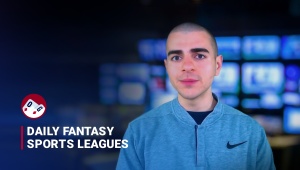 Daily Fantasy Sports Leagues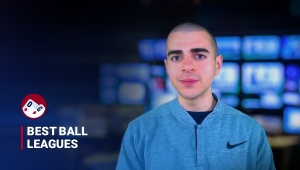 Types of NFL Fantasy Football Leagues
There are a number of different types of NFL fantasy leagues, meaning everyone should find something just right for them…
Standard Scoring

A simple form of fantasy betting. Offensive players score points for specific actions, like touchdowns and runs, while the defense is selected as a unit. Most NFL fantasy leagues use standard scoring.

PPR Scoring

This is very similar to standard scoring, with the difference being the receivers get a point for every reception. This makes wide receivers and tight ends more valuable than in a standard scoring game.

Touchdown Only Scoring

The most basic type of fantasy football, where a player only scores points by getting into the endzone. This type of scoring is not seen a lot nowadays, as most fantasy players prefer something a little more detailed.

IDP Leagues

In standard scoring leagues, defenses are selected as a team unit. In IDP leagues, though, individual defensive players are picked, and they earn points for specific defensive actions, such as sacks and interceptions.

Auction Leagues

This type of league uses an auction for player selection. This sees a number of players bidding against each other for a player. So, you might end up paying big bucks for Patrick Mahomes, but you'll have to spend less elsewhere.

Re-Draft Leagues

This type of league sees you start again every single season, not retaining any players from the previous season. This makes a fantasy draft a little less confusing than alternative options.

Keeper Leagues

In a keeper league, a certain number of players from the previous year can be kept, and the remaining positions are then filled using a draft. This allows players to retain their most impressive stars from the previous year.

Dynasty Leagues

Similar to the NFL, a dynasty league sees players retaining their entire squads from the previous season. It rewards those who build for the future and draft promising young players, and is seen as the most realistic type of fantasy football.

Survivor Leagues

These differ considerably from all other leagues. In other leagues, players will compete for the entire season, however a survivor league sees the player at the bottom of the table every week being eliminated.

Daily Fantasy Leagues

These are much quicker games, as you simply pick the best possible team for the upcoming round of fixtures. Perfect for those looking for immediate excitement, but not great for those looking to immerse themselves in the game.
Top 5 NFL Fantasy Football Betting Tips
Fans of fantasy football gambling use loads of different strategies to increase their chances of success. Here are our top five tips for those new to the game:
Forget quarterbacks at the beginning of a draft. Instead, concentrate on drafting top running backs and wide receivers.

Make sure you always do your research. This includes watching college football, to see which new prospects are worth selecting.

Always stay active, making changes to your team throughout the season depending on how players are performing.

Understand the scoring system comprehensively and then tailor your team accordingly to maximize the points you score.

Play at a reputable fantasy sports site, such as the ones we recommend, as you can be sure that they're fair and secure.
Our #1 Fantasy Football Betting Site
TOP RATED CANADIAN SITE

FanDuel
NFL Fantasy Football FAQs
Can you play NFL fantasy football for free?
Yes, it is possible to play fantasy football for free. In fact, the NFL offers its own free fantasy football game for fans to enjoy.
While you won't risk losing anything when playing for free, you won't usually be able to win any money either. It's the chance to win money that excites many fantasy football players.
Is NFL fantasy football legal?
There is nothing that prohibits people from playing NFL fantasy football in Canada, therefore it is completely legal for you to play the game, even for real money.
This is further backed up by the fact that there has never been any prosecution in Canada for offering or playing fantasy sports.
What are the scoring points in NFL fantasy football?
Each version of NFL fantasy football will have its own scoring system.
Typically, offensive players will receive points for things like receptions, runs and touchdowns, while a defensive unit will gain points for interceptions, sacks and holding the offense to under a certain number of points.
Check the points system before you sign up.
How does NFL fantasy football work?
Firstly, you'll need to pick your team. This will usually involve selecting a certain number of players without spending more than a set figure.
Players then earn points depending on certain actions, such as touchdowns and receptions. Fantasy football players can swap personnel throughout the season to boost their team.
What are the best sites for NFL fantasy football?
Searching for the best NFL fantasy football site can be overwhelming, but we highly recommend the following for Canadian residents.
Fantasy Draft
Boom Fantasy
ESPN
Are NFL players allowed to play fantasy football?
Surprisingly, NFL players are actually allowed to play fantasy football, despite the clear conflict of interest.
They're not allowed to win anything over $250, though, which is small change for a player earning tens of millions every year. The $250 rule also applies to all other team personnel, as well as NFL employees.
Can you bet real money on fantasy football?
In short, yes. The process is simple too. Fantasy Draft is a fantasy football league which offers a pool market. Here, you can have a fixed stake and if you come out on top, you win a share of the pot.