Top WWE Betting Sites for 2023
Discover the best WWE betting sites available in Canada and find out how to start gambling on this global sport, right here on this page.
Is WWE betting fair? How do I sign up to a sportsbook? How do WWE odds work and what are the different betting options? Our expert team answers all the above and more…
Top WWE Betting Sites for Canadian Players
How We Review the Best WWE Sites
How to Sign Up to a WWE Betting Site
Choose one of the best WWE betting sites we recommend

Find the 'sign up' button on the homepage which should be near the top

Complete the registration form filling in your personal details

ecurity questions and answers may be needed to give extra protection to your betting account

Create a username and password

You may need a promo code to activate the welcome bonus received for joining

Verify your age and agree to sportsbook terms and conditions
How WWE Odds Work
A key part of our WWE betting advice is how the odds work. We're going to work through a typical singles match example:


Triple H


Batista
In this bout, Triple H is the betting favourite. For every C$2 you bet on The Game, you'll receive a return of C$3. That is C$1 of profit.
Batista, meanwhile, is the underdog. If you stake C$8 on The Animal, then there's C$13 profit in it for you if he wins. The total return here is C$21.
We've used decimal odds in our above example, but you may also see prices for wrestlers in fractions. The American moneyline style is also prevalent in Canada too. For more on how different betting prices compare, see the WWE odds calculator below.
The WWE betting in Canada has the same options as everywhere else. Let's take a look in more detail:
Match winner

Which wrestler will win the match?

Eg:

Batista

2.63

Method of victory

Which wrestler will win the match, and how?

Eg:

Triple H via submission

8.50

Champion after

Which wrestler will win a certain championship next?

Eg:

John Cena to be WWE Universal Champion after Brock Lesnar

26.00

Main event

Which wrestling match will be the main event of the upcoming pay-per-view?

Eg:

Seth
Rollins

3.75

Brock
Lesnar

3.75

Royal Rumble winner

Who will win the next men's or women's Royal Rumble match? These events are held annually at the eponymous January pay-per-view.

Eg:

AJ Styles

13.00

Most eliminations

Which wrestler will have the most eliminations from a multi-person match? These WWE betting markets are often used for the Royal Rumble and Elimination Chamber pay-per-views.

Eg:

Samoa Joe in
the Elimination Chamber

4.00

Money In The Bank winner

Who will win the next men's or women's Money In The Bank ladder match? These events are held annually on pay-per-view sometime between May and July.

Eg:

Charlotte Flair

12.00
WWE Betting Bonuses Explained
The whole point of joining a WWE betting site and continuing to bet with them is to get bonuses. Broadly speaking, there are three different types:
Almost all sportsbooks offer you something for joining
You may need to use a promo code to get a welcome bonus
These offers are for new customers only

Also called price boosts, these give extra value on a fancied outcome
There may be strict maximum stakes or time limits
Enhanced odds are available to both new and existing customers

If you bet regularly, then a VIP Club is something to look into
Sportsbooks reward your loyalty with bonuses if you have so many bets in a certain timeframe
Commitment to a VIP Club is often casual, meaning you can miss out a week
Mobile WWE Betting
Digital technology is a wonderful thing. We take our smartphones and tablets with us everywhere. That means mobile WWE betting exists at your fingertips. If you have an Apple or Android digital device, then chances are the betting site you use has an app.
These are free to download and offer a streamlined gambling experience. If you're on a Blackberry or Windows Phone, there's always mobile web browsing to fall back on. Mobile WWE betting couldn't be easier.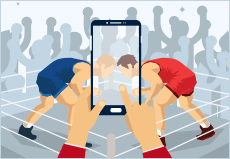 WWE 101: Rules and Intro
The WWE, or World Wrestling Entertainment, is something certain betting sites are willing to offer odds about. Here are some key facts about this premier pro wrestling company:
WWE has multiple weekly television broadcasts and monthly pay-per-view events

Pro wrestling matches are scripted to have certain finishes

That means you are betting on the likely outcome put together by WWE writers

There is no offseason for pro wrestling and, although scripted, real-life injuries happen like in other sports

Last minute changes or additions to advertized matches happen a lot as storylines progress

WWE has a number of male and female wrestlers who compete for championships and other accolades

Standard pro wrestling matches can be won by pinfall, submission, countout or disqualification

Gimmick matches may involve no disqualification or countout, multiple decisions, tables, ladders and other weapons

Battle royals like the Royal Rumble involve throwing opponents over the top rope. Elimination only occurs when both feet touch the floor

Steel cage matches can be won by escaping the cage
The WWWF (World Wide Wrestling Federation) is formed when it splits from the NWA (National Wrestling Alliance)
1963
WWWF becomes the WWF (World Wrestling Federation)
1979
WrestleMania is held for the first time with a main event featuring Hulk Hogan and Mr T
1984
Survivor Series is held for the first time
1987
The Royal Rumble and SummerSlam are held for the first time
1988
The WWE Hall of Fame is created. Andre The Giant is the inaugural inductee. Annual inductions only became regular from 2004 onwards
1993
The Hell In A Cell match is held for the first time at Badd Blood
1997
Owen Hart dies in a zip wire accident at the Over The Edge pay-per-view
1999
WWF buys its major competitors WCW and ECW
2001
WWF rebrands as WWE. The Elimination Chamber match is held for the first time at Survivor Series
2002
Money In The Bank ladder match is held for the first time at WrestleMania 21
2005
WWE forms the NXT brand as a developmental territory for wrestlers
2010
Brock Lesnar breaks The Undertaker's WrestleMania undefeated streak of 21 consecutive victories at the event
2014
Women compete in their own Money In The Bank ladder match for the first time
2017
The first women's Royal Rumble match takes place
2018
FAQs
What is the WWE?
The WWE, the abbreviated form of World Wrestling Entertainment, is the biggest professional wrestling company in the Western world.
What are the best WWE betting sites?
How does WWE betting work?
Can I bet on WWE on mobile?
What are the most popular WWE bets?
Is WWE betting legal in Canada?
Is there a winning strategy for WWE betting?
Can I place WWE parlay bets?
Is WWE betting fair if the outcomes are predetermined?