UK Horse Racing Betting Guide 2023
UK horse racing betting is as traditional as it gets, for this is the sport of kings. Racing horses has a rich history in the British Isles which continues to this very day.
This our detailed guide to UK horse racing betting in Canada. What's in store for you on this page? All this and more:
An explanation of how UK horse racing odds work
Background and a potted history of the sport
A list of the best UK horse racing betting sites for Canadian gamblers
Top Horse Racing Betting Sites for Canadian Players
An Introduction to Horse Racing in the UK
Before we start handing out UK horse racing betting advice, we're going to look at some of the key facts about this sport:
Horse racing in the UK is either done over jumps or on the flat

Flat horse races range in distance from five furlongs (just over half-a-mile) up to over two-and-a-half miles

Trainers are allowed to run their racehorses both over jumps and on the flat, provided they have licenses to do so

Jumps horse races range in distance from about two miles to over four miles. They can be over hurdles, steeplechase fences or no obstacles at all which are known as National Hunt Flat Races, also called bumpers

Races in the UK take place on turf (grass) or All-Weather surfaces (tapeta, polytrack)

All officially recognized horse racing takes place under the Rules of the British Horseracing Authority (BHA) first set out by The Jockey Club

These are the laws governing horse racing in the UK to ensure each race is consistent and fair

Each race will have a closing date for entries, but horses may be supplemented after this time if terms allow

There is a rigorous drug testing policy to prevent racehorses from being doped

If any trainer or jockey is found to have broken the Rules of racing, then their horse may be disqualified. They can also be banned from riding or training, or receive a fine
How UK Horse Racing Odds Work
The best way to show you how UK horse racing odds work is to look through an example. In this hypothetical race, some of the great two-mile steeplechasers line-up:


Altior
2.00
(Evens)


Badsworth Boy
2.50
(6/4)


Fortria
5.50
(9/2)


Hilly Way
13.00
(12/1)


Master Minded
2.88
(15/8)


Moscow Flyer
3.25
(9/4)


Sprinter Sacre
3.75
(11/4)


Viking Flagship
7.00
(6/1)
Altior is the horse with shortest price next to his name as the number is the smallest. For every $5 bet on him, you would double your money if he won.
That means total returns of $10 and a $5 profit. The bigger price (the larger the number), then the greater your winnings could be.
Hilly Way, for instance, is the outsider in the race. The same $5 stake would return $65 - $60 of which is profit.
With UK horse racing odds, it's common to see prices expressed as fractions so we've put them in brackets next to the decimal ones. For more on comparing different odds types, see our calculator below.
UK Horse Racing Betting Options
Although we're concerned with UK horse racing betting in Canada here, it's good to know British terms for the bet types you'll encounter. Here are some of the most popular:
To win

Keeping things simple, you can back a horse just to win a race.

Eg:

Altior

2.00

Without the favourite

Sometimes a betting favourite is such a short price that UK betting sites offer a market without that horse in it. This is to attract people who feel the favourite isn't value.

Prices on all other runners are shortened up as a result of the favourite's absence from this market.

Eg:

Sprinter Sacre
without the favourite

2.38

(11/8)

Each-way

You can also back a horse each-way, that is to win and place in a race. It is essentially two bets in one. A fraction of the outright win price – determined by the type of race and number of runners – is available for a place.

Depending on how many horses run governs how many places betting sites offer. At least five are needed for each-way betting to be allowed. You can thus still make profit even if your chosen horse doesn't win.

Eg:

Hilly Way
each-way

13.00

(12/1)

To place

If you're not certain a horse can win a race, but feel it can place, there's a market for that. As above with each-way betting, the number of places paid out on varies depending on the number of runners and the type of event.

Odds will invariably be shorter than the outright win price, but should be comparable with the fraction available for an each-way place bet.

Eg:

Hilly Way
to place

3.40

(12/5)

Straight or Reverse Forecast

You can also bet on two horses in the same race to finish first and second. When you specify the order, this is known as a straight forecast in the UK.

If no order is specified, then you are placing two bets in one and this is called a reverse forecast. These wagers are better known globally as exactas or reverse exactas.

Eg:

Altior

to win

Sprinter
Sacre second

Straight or Reverse Tricast

Along the same lines as a forecast, you can also pick three horses in the same race and bet on them. Here, it's to finish first, second and third either in any order or a specified one.

These are called straight or reverse tricasts in the UK, but better known outside the British Isles as trifectas and triactors in Canada. A reverse tricast is six bets in one as you have all possible finishing orders for the three selections covered.

Eg:

Altior to win

Sprinter Sacre second

Moscow Flyer third

Match betting

You can also bet on one horse to finish in front of another. This type of wager is called match betting and can be worth exploring when two horses line-up against one another having met before.

The horse you pick to win the match doesn't have to win the actual race, but just beat the specified opponent from the field.

Eg:

Master Minded

Viking Flagship
Mobile UK Horse Racing Betting
Using your mobile to place horse racing bets is now commonplace in the UK and all over the planet. What are the benefits of mobile UK horse racing betting?
If you have an Apple or Android smartphone, then chances are the betting sites you use will have a dedicated app you can download for free

This gives you a streamlined mobile gambling experience that makes betting on horse racing and other sports easy

Having an app that allows you access to mobile UK horse racing betting means you can place a wager anywhere with an internet connection

It's the height of convenience to have this literally at your fingertips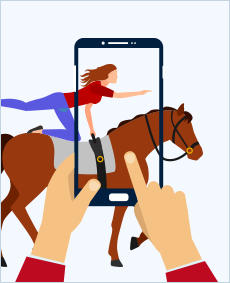 A Brief History of UK Horse Racing
Following the Restoration of the Monarchy, Charles II helps to formalize horse racing at Newmarket in Suffolk. In 1671, he rides the winner of the Newmarket Town Plate
1660
Royal Ascot is founded by Queen Anne. It is an annual tradition for the Flat racing held there every June to take place in front of royalty
1711
The Jockey Club is established to bring in uniform Rules for horse races
1750
The St Leger is first run on Town Moor at Doncaster. This is the oldest of British horse racing's five Classic races for three-year-old colts and fillies
1776
The Derby is inaugurated with The Oaks at Epsom being first held the previous year
1780
The 2000 Guineas is first run at Newmarket with the 1000 Guineas for fillies inaugurated five years later
1809
The first official running of the Grand National takes place at Aintree near Liverpool
1839
Sandown Park becomes the first racecourse to open a separate enclosure for members only
1875
The Cheltenham Festival is founded with the first championship race, the Stayers' Hurdle inaugurated the following year
1911
The Cheltenham Gold Cup is run for the first time
1924
The Champion Hurdle is inaugurated
1927
The King George VI Chase at Kempton Park is held for the first time
1937
The Queen Mother Champion Chase is inaugurated
1959
Red Rum wins a record third Grand National at Aintree
1977
A Foot and Mouth Disease epidemic sweeps through the British countryside leading to the cancellation of the Cheltenham Festival
2001
Conclusion
And that's our guide full of UK horse racing betting advice. As you can see, it literally is the sport of kings.
If you've got further horse racing queries, then the answers may be found in the FAQs section below. It's a mine of information!


FAQs


How does horse racing betting work?
Betting on horse racing is simple. You simply find the race you want to bet on, then select the horse you've picked and add them to your betslip. Enter your stake (remember to specify if it's an each-way bet) and place the wager!


What are the most popular bets for UK horse races?
Some of most popular bets placed on horse racing in the UK are:
To win
Without the favourite
Each-way
To place
Straight or Reverse Forecast
Straight or Reverse Tricast
Match betting


What are the best betting sites for UK horse races?
We only put forward the best UK horse racing betting sites for you to choose from on this page.


Can I bet on UK horse races on mobile?
You can bet on all UK horse racing through mobile and other digital devices.


Is horse racing betting legal in Canada?
Betting on horse racing was legalized in Canada back in 1969, so it's all good!