WTA Finals betting guide for 2023
The WTA Finals is a prestigious tennis tournament played annually at the end of each season for the women's professional tour. The exciting year-end finale features the top-ranked female professional players in the sport, and encompasses both singles and doubles events. It also incidentally has the largest prize money of around C$14 million!
As well as having a huge draw for players, the WTA Finals also has big incentives for bettors, offering some great wagering opportunities. If you're interested in betting on the WTA Finals, our comprehensive guide should tell you everything you need to know, from the different types of bets to how WTA odds work.
Best WTA betting sites in Canada
An introduction to the WTA Finals
To get you started on WTA Finals betting in Canada, we've put together some interesting and important facts about the tournament:
Eight women contest the singles draw (previously 16 were involved) in two groups of four (used to be single elimination)

These are made up of the highest ranked singles players, provided they are free of injury. The top two seeds are placed in different groups

They play a round robin format in the two groups with the two women who win the most group matches in each pool advancing. Set difference can be used as a tiebreaker

Groups are named after two famous female tennis players in recognition of their past achievements in the sport

The WTA Finals then becomes a single elimination tournament from the semi-finals stage

Between 1984 and 1998, the final was best of five sets. All WTA Finals and Tour matches are best of three nowadays

A game of tennis must be won by two clear points. A set by two clear games or in a tiebreak once the scoreline reaches 6-6

Previous editions of the WTA Finals have been held on clay and carpet courts. Hard surfaces have been used since 2001

Only the Grand Slams are more prestigious than the WTA Finals in the women's professional tennis calendar

Host cities for the WTA Finals include Los Angeles, New York, Munich, Madrid, Doha, Istanbul, Singapore and current home Shenzhen
How WTA Finals odds work
If you're new to WTA Finals betting and getting to grips with it all, then never fear as we are here to help. In order to give you a better understanding of how WTA Finals tennis odds work, let's look at an example:


Simona Halep
2.0


Petra Kvitová
2.75
As Halep has the smaller number next to her name, her odds are shorter. That makes her the favourite to win. You would double your money if placing a bet on her and she won. Kvitová, meanwhile, is the underdog. For every C$4 wagered on her, you would receive a return of C$11. That is C$7 of profit.
With Halep, the same C$4 stake returns C$8, meaning a C$4 profit. The prices we've used here are decimal odds, but the American moneyline system is also something to look out for in sports betting.
WTA Finals betting in Canada may even see match winner prices quoted as fractions. If you want to compare these, then feel free to use our handy odds calculator.
Types of WTA Finals bets
Now that you have an idea how WTA Finals odds work, it makes sense to look at popular markets you can bet on:
Match winner

The most common wager you can place in tennis betting is on which player will win the match.

Eg:

Petra Kvitová
to beat Simona Halep

2.75

Tiebreak in match

Given that only the top women players take part, tiebreaks can happen. You can bet around any of the sets going the distance to a deciding game or not.

Eg:

No tiebreak in

Venus
Williams

Serena
Williams

Set winner

This bet works in pretty much the same way as the match winner, except in this case you're betting on the outcome of an individual set rather than the complete match.

Eg:

Garbiñe Muguruza
to win the first set

2.38

Set scoreline

What will the exact score in a certain set be? This can either include the winner or odds are also available on just the score.

Eg:

Serena Williams
to beat Venus Williams

6-4 in the
second set

4.50

the first set
ends 7-5

6.50

Correct scoreline

For this bet, you need to predict the score of a WTA Finals match in sets.

Eg:

Petra Kvitova
to beat Simona Halep 2-1

3.75

Outright tournament winner

Similar to other sports tournaments, you will be able to bet on which player you think will win the WTA Finals overall.

Eg:

Serena Williams outright

2.50

To reach the final

Which player do you fancy to make it through the groups and semi-finals to contest the final? The great thing about this bet is it pays out whether they win or lose at the end of the WTA Finals.

Eg:

Simona Halep
to make the final

3.50

Group winner

Which player will top their group at the WTA Finals?

Eg:

Garbiñe Muguruza to win
the Martina Navratilova group

2.88
Live betting on the WTA Finals
Did you know WTA finals betting can happen live as matches are in-play?

This concept is relatively new, but compliment regular fixed odds nicely

All the best WTA Finals betting sites will offer you the chance to place live wagers

Live betting odds are constantly updated in reaction to what is happening on court

Popular WTA Finals bets made in-play include next game winner and set winner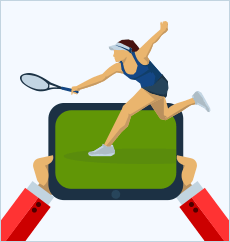 Multiple WTA Finals singles winners
These greats of women's tennis have all won the WTA Finals or its forerunners more than once:
Martina
Navratilova

8 times

Steffi
Graf

5 times

Serena
Williams

5 times

Chris
Evert

4 times

Monica
Seles

3 times

Kim
Clijsters

3 times

Evonne
Goolagong

twice

Gabriela
Sabatini

twice

Martina
Hingis

twice

Justine
Henin

twice
FAQs


What are the WTA Finals?
The WTA Finals are the end-of-year singles and doubles events for the women's professional tennis tour. They are held annually where the top eight players and doubles pairs in the world are invited to compete.


What are the most popular WTA Finals tennis bets?
To recap, some of the most popular WTA Finals betting types are:
Match winner
Tiebreak in match
Set winner
Set scoreline
Correct scoreline
Outright tournament winner
To reach the final
Group winner


What are the best WTA Finals betting sites?
We only feature the best WTA Finals betting sites and those for tennis in general in this guide. You can check out our list of recommended betting sites further up this page.


Can I bet on the WTA Finals on mobile?
Yes indeed. You can bet on the WTA Finals, and a whole host of other top tennis tournaments, through your mobile device.


What is WTA Finals tennis live betting?
Live betting enables you to place wagers on a sporting event like the WTA Finals while matches are actually happening. The available odds change and update all the time to reflect what is happening on court.