Online vs. Offline Gambling In Canada - Which Is Better?
Depending on where you live in Canada, you may have multiple casinos on your doorstep or none at all. But, when it comes to today's real money internet gambling, the world's top online casinos are always at your fingertips. With no need to travel, dress up, or even leave the house. Canadians can take part in their favourite casino games, wherever - and whenever the mood strikes. But only, when they play at the best casinos online.
So, if you're new to using your smartphone, laptop, or tablet to take part in real money action using your Canadian dollars. Read on to discover the pros and cons of offline and online gambling in 2019.
Online
On Land

Convenient

Todays casinos online allow players the freedom to play on mobile, PC or tablet, just about anywhere in Canada

Rewarding

From complimentary drinks, to free buffets, there are perks aplenty in casinos offline in Canada

Unlimited Games

With no physical limitations to fence their lobbies in online casinos aren't restricted in the games they can offer

Atmosphere

Nothing beats the sounds, smells and excitement of playing for real money against players you can actually see

Free Play

Not sure how to play a game? No problem. Try it out for free before you advance to playing with real money

Better Odds

Offline odds are often better and when you're in it to win you want to play where the odds are in your favour

It's Solitary

Hermits and recluses might see this as a pro of online but the fact is it's a pretty unsociable form of gambling

High Limits
You can play for free or even cents at a time online but not when you're wagering money at a land based casino

24/7 Access

When it's easy to play any time it's also easy to bet beyond your means and lose what you can't afford

Distracting
Bright lights and busy lobbies might sound good on paper but can distract your focus when you're concentrating
The Case for Playing Casinos Online
Today's online casinos in Canada have far more to offer players than just exciting real money action. If you've yet to open up an account at a casino site, here are some of the benefits playing your favourite casino games online offers.
Convenience
The biggest draw of online casinos for most players in Canada is convenience. Not everyone has the luxury of a casino on their doorstep. And even if you do have one close by, chances are you'll still have to jump in your car and drive to it.
Whether you're are a serious gambler, or a casual player who likes the occasional flutter, driving to a casino when you can just as easily bet for real money online in 2019 just doesn't make sense. The beauty of today's real money online games is that they can be played from absolutely anywhere, on any device that has a web browser and internet connection.
Game Selection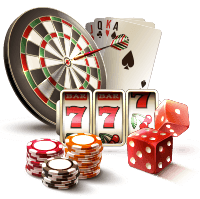 Online casino lobbies are notoriously huge because they're basically limitless. Not only will you find pretty much every real money game you can think of represented in the gaming portfolios of today's top casinos online in 2019. But the competition is pushing casinos to keep their games offer constantly refreshed and to add new and exciting variations on classic games all the time.
Most online casino gaming lobbies will change up month on month. So even if you have a solid favourite game today, you could be hooked on something totally new and different come tomorrow. An element of online gambling that offline, land-based, casinos - which are restricted in floor space - absolutely can't compete with.
Bonuses
In 2019 it's standard for online casino sites to offer sign-up bonuses to new players. These offers usually take the form of a deposit match, which can double or triple your money when you upload cash to your account for the first time. As well as frequently rewarding players with free slots spins to use on select games too.
Once this initial reward has expired however, that isn't the end of the pot of gold. Online casinos are notorious for making their members feel valued through timed promotions, reload bonuses, and loyalty schemes that reward players for time spent taking part in their games. Something you'll rarely find at casinos online in Canada, who have the monopoly over players because competition is low or non-existent.
Privacy
Another reason online gambling has become so popular, not only in Canada but around the world, is down to the privacy it offers. Instead of walking into a casino in person. Where your every movement is being recorded on camera and every other player in the room can see you. Playing real money games online allows Canadians to be 100% covert and anonymous.
You can choose an onscreen username that is completely random and in no way reveals your identity. Plus you can play in your PJs, on the toilet, in bed, or in your birthday suit. No one can see you - not even the dealer. So you really can keep your identity a secret and play undetected when you take part in casino games online.
Security
While, back in the day, the security of your money and information at a casino online could be questioned, that scenario is far from the case in present day-Canada. As online gambling becomes more socially acceptable and federally regulated around the world, today's sites have too much at stake to offer anything less than the most stringent encryption security to protect their members' details - and their money.
Plus, security is a big consideration when it comes to a casino being granted a licence to operate online in 2019 - with those that don't invest in this area being refused endorsement by today's trustworthy industry regulators. So you can sleep soundly when you sign up to today's top Canadian gambling sites. Knowing full well your finances are 100% protected at all times around the clock.
Offline Casinos: Do They Still Have A Place In Canada?
We've talked a lot about the positive aspects of switching to a casino online in Canada. But what of their land-dwelling predecessors? Is there still a place for physical casinos to flourish and thrive in Canada in 2019? Or are Canadian brick and mortar casinos simply in danger of becoming extinct?
One of the biggest arguments in favour of offline casinos is the social aspect. While today's casinos online may offer live chat with customer service advisors and the ability to interact with players and dealers in real time, the fact remains that your entire interactions are taking place from afar in a remote location.
The beauty of brick and mortar casinos is the atmosphere. While online casinos are certainly a more convenient and immediate way to bet for real money in 2019. Virtual reality lobbies still can't compete with the thrill of being in a physical casino watching on as the action unfolds right in front of your eyes.
When you walk onto that casino floor or take a seat at any table you'll be met by a member of the casino's extensive roster of staff. Immaculately turned out in uniform. With the manners of Mr Darcy and the patience of a saint. The customer service you experience at a land casino in Canada is second to none.
Dealers, croupiers, hostesses, and waitresses. They're all there to amplify your enjoyment and make your presence feel valued. Plus a land-based casino quite often has the added benefit of free drinks while you play. And sure, while you can live chat online at the majority of todays top internet real money sites. And help yourself to a cold beer out of your home fridge whenever you like. It's not quite the same as the attentive customer service you receive when you play for real money at a casino on land.
Live Dealers: Blurring The Boundaries of On & Offline

As we've touched on, the social aspect of playing at land based casinos in Canada is one reason these outfits continue to stay in business against their online rivals. But realising this to be their weak spot, today's real money game developers have sought out ways to replicate the offline player experience, online.
Live Dealer Games, are the internet's answer to addressing that elusive social element of online real money gameplay. In these games, players can connect by video stream in real time to a dealer or croupier based remotely. And not only can you see this person on your computer, tablet, or mobile smartphone screen. You can also interact with them too - and get a response.
Today, live dealer games are offered at the majority of top international casino sites in Canada and typically span classic and variant versions of the most popular casino games - including blackjack, roulette, baccarat, and poker. The only drawback with live dealer games is that you can't take part for free. But then neither can you walk into a land casino in Canada and expect to play without placing a wager either.
The Difference in Online & Offline Systems
There are some casino games where luck is the only deciding factor when it comes to winning or losing. Slots, for example, is a game where the outcome depends entirely on chance. Which is one reason why it offers players such low odds of winning in comparison to other skills-based games in 2019.
But then there are those games where knowledge is power and the outcome can be swayed in your favour. If you know how to play the game and play it well. We're talking of course about popular casino table games including blackjack, baccarat and poker - and even to a certain extent roulette.
Some strategies - such as learning to count cards in 21 for example - are deeply frowned upon by land-based casinos. Although not illegal, card counting is regarded as a form of cheating. And it's systems such as this that are precisely why the casino eye in the sky is watching every player at every table 24/7.
But when you play casino games online you do so in the privacy of your own home, away from prying eyes. If you want to employ a system to give your chances a boost there's no one to catch you out. And although these practises still aren't condoned by casinos online. There really is no way they can restrict or prevent players from using them.
Online or Offline: Which is Best for You?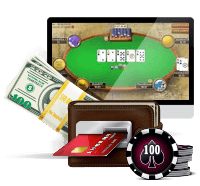 So, is online or offline casino play best for you? Well, it really depends on the kind of player you happen to be. If you are the kind of person who likes to get big bonuses and have a huge variety of different games to choose from, then online casinos could be the best choice for you. Be aware though: you won't find too much social interaction, as online gambling is a pretty solitary experience!
If it's this social interaction that you crave, then offline play is better, as you'll get to interact with loads of other people and have a great night, regardless of whether you manage to win or lose. You'll find that the prizes are pretty much on par with the ones at online casinos as well, however you won't be welcomed in with huge bonuses, and you'll have to stick to the tried and tested casino games.
Who says that you have to play online or offline exclusively though? The best way to enjoy gambling is to combine them both! So, by all means play at an online casino during the evenings, but why not then have a great night out at the weekend by visiting a land-based casino? Players in Canada are in a great position to do just this, thanks to the many different online and offline casinos available to them.