Understanding the Odds - A Guide for Canadians
No matter if you are a new or even an intermediate gambler, learning what casino game odds actually mean can be confusing at first. Especially if you trying out a new game (or getting into sports betting for the first time), understanding the odds can be a little like trying to read a foreign language.
Below we have laid out a guide that will help you decipher this new "language" and figure out the best wagers to make in order to get the most of your money. Our primer on casino odds will allow you to get the most of your money at both land and online casinos.
The House Edge
Perhaps the most important thing to know is that regardless of if you are playing online or in-person, the odds for any game are always going to be in the casino's favour. This is called the house edge, a percentage that lets you know the average player's loss rate on their initial bet (NOT all their bets averaged out). In other words, if you are thinking of playing a variation of blackjack that has a house edge around 0.3%, for every C$10 bet you make you will lose 6 cents on average.
The house edge is always dependent upon what particular rules a casino employs. Thus, you should always learn what kind of special rules are in effect (especially on games like blackjack) before playing. Note too that when this percentage is applied, it's assumed that the player is playing statistically perfectly. So if you are new to the game, obviously the real house edge is going to be even higher. For the most part, the games that have good odds and a small house edge online are going to be the same as in a live casino.
Online Casino Odds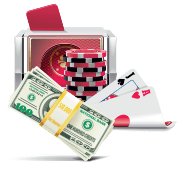 Because online casinos don't have to pay for the kinds of overhead that land casinos do (employees, facilities, maintenance, etc.), the house edge is widely considered to be slightly lower online. For table games (like blackjack, baccarat, and Spanish 21) instead of the luck of the cards, online casinos rely on a random number generator (RNG). While the numbers that come up are in fact random, they are still programmed in a way that will result in more losses than wins.
Blackjack is notorious for having one of the smallest house edges of any game, especially if you follow blackjack basic strategy. This edge can be made even lower online by referring to a basic strategy chart as you play (something land casinos would never allow) to guarantee that you are playing the probabilities perfectly. Video poker is going to have a smaller house edge, and sometimes you can even find machines that advertise a player's edge (written as something like 100.7%). And while it's not technically a casino game, your very best odds will come from poker, where you are competing against other players and not the casino itself.
Land Casino Odds
Just like playing it online, statistically your best odds are going to come from playing casino poker. However, video poker also has an extremely small edge comparatively (about 0.50%). The game famous for being one of your best bets in the casino, blackjack, has an even smaller edge if you are able to count cards (something impossible to do online) while also playing with basic strategy. Also, craps, a game that doesn't really translate well online has an advantage of just over 1% in most places for Don't Pass/Don't Come and Passline/Come bets.
Slot machine players often have questions about their odds. Statistical analysis shows that there is no truth to the myth that machines on the end of a "block", near high traffic areas, or even by the front door have higher returns. That said, "loose" and "tight" machines do exist, and the average return rate can swing from as low as 85% up to the mid-90 percentiles. Especially for actual slot machines (with reels as opposed to video screens), casinos have been hesitant about releasing the house edge numbers, but usually with some quick online research you can find payout odds for particular machines if you look hard enough.