6 Mistakes to Avoid in Online Casinos
Online casinos make it easier and easier to play real money casino games from your laptop or mobile device every day. However, before signing up and playing, there are several things new players should be aware of.
As a gambler, it's inevitable that you are going to make a mistake from time to time. But by keeping in mind some of the most common mistakes that new online gamblers make, you can reduce that house edge and increase your own odds of raking in serious money at an online casino.
Finding "Hot" Slot Machines
You may often hear talk of gamblers shopping around to find slot machines that are "loose" or "hot". This goes against the very fundamentals of how online slots actually operate, which is through random number generators. These RNGs are computers that generate a random symbol on the first reel, then the second, and so on. The probability of hitting a winning combination as well as the payback rate of the machines are the only things that will determine if you strike it lucky or not.
Again, slot machines are like a very complex coin flip, and every spin is completely random. How long it has been since the last jackpot (or any factor) does not influence when a slot machine will hit for you. Keeping all this mind, your best shot with slot machines is to find one with a high payout rate, then just stick with it as opposed to hopping around looking for one that is 'hot'.
The Gambler's Fallacy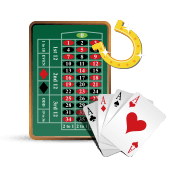 Anyone who has ever gambled has probably been guilty of falling prey to the gambler's fallacy at some point or another. No matter the game, it's somewhat human nature to think that after a period of bad cards, few hits, or no jackpots, that you'll be "overdue" for results in your favour. When truly random results are being generated (like in casino games), this line of thinking violates statistical law and is simply untrue.
So if you are in the middle of a long cold streak, avoid the temptation to think that your luck just has to change sometime soon. While it could, there's still an equal likely chance that it won't.
Mismanaging Your Bankroll
The first rule of online gambling is, before you do anything else, to set yourself a budget and decide exactly how much you'd be ok with losing. Not only will this prevent you from chasing your losses and putting you in a hole of debt, it ensures that you'll be able to gamble the next day/week/month (depending how you set up your budget). You can read more here in our guide to online casino bankroll management.
When you have a credit card on file with an online casino, it makes it extremely easy to deposit and reload your account, which is why it's a smart strategy to always set aside 50% of all your wins. Sticking to this rule will ensure that you'll walk away with at least the amount you sat down with, assuming you don't hit a terrible cold streak right at the beginning.
Playing Inebriated

Being successful at gambling is all about keeping a cool head and remaining logical despite the situation. Alcohol, marijuana, and just about any other substance is going to impair your judgement and possibly cause you to make irrational gaming decisions you wouldn't normally otherwise. And that's exactly why land casinos are so eager to bring you free drinks, so use the advantage of gambling at home by staying sober and clearheaded!
Not Knowing the Game
A major pitfall many new online casino players fall into is not knowing exactly what they are playing! A great feature of online casinos is the endless number of different game varieties and options they offer, however this could end up losing you money if you don't understand exactly what rules you are playing by.
Blackjack is one game where it's common to see many different variations for, such as the soft 17 rule (indicating whether a dealer has to hit or stand on S17) and having any number of decks in play. These variations and all the others you will find affect the house edge and how you should strategically play the game.
Not Choosing the Right Casino

Finally, it's a mistake to assume that all online casinos are created equal. Each one is unique in their own way and offers different games, bonuses, and levels of quality. Our reviews can help you sort through the many online casino options out there and help you choose one that is safe, secure, and meets all of your criteria.