Handball betting guide for 2023
Handball is a sport with a large global following. It's also popular in Canada, especially in Alberta and Quebec. Handball is fast, flowing and great fun to bet on.
In this guide we'll give you an introduction to handball betting and tell you what to look out for on sites that offer handball odds. We'll look at:
How to sign up for a handball betting site
How handball odds work
How to bet live on handball
Top handball betting sites in Canada
How to bet on handball
Once you feel you are ready to bet on handball, decide which site you want to use

When you get to the homepage, it will be easy to find a 'Register' or 'Sign Up' button

Put all the details required into the registration form

At this point there may be a security question and answer that you should input for extra protection

Choose your username and password

If you have been given a promotional code, enter it to generate a bonus

Confirm you are old enough to bet, then agree to the site's terms and conditions
An introduction to handball
Handball is an indoor team game played on a court measuring 40m x 20m. The team scoring more goals wins.
There are seven players on each team, six outfielders and a goalkeeper

Each match comprises two periods of 30 minutes each

The object of the game is to throw the ball into the opponents' goal. Goals are two metres high and three wide

If the scores are level at full-time, there are two periods of overtime of five minutes each

If the scores are still level, there is a penalty shootout

World championships are now held in alternate years; they are dominated by European nations

Canada's best performance in the men's world championship was 15th in 1978, in the women's it was 10th in the same year

Indoor handball has been an Olympic sport for men since 1972 and for women since 1976. Canada has never won a medal

Canada competes in the Pan American Handball Champions, which have been traditionally dominated by Cuba, Brazil and Argentina

Canada's women's team were champions in 1989 and the men were runners-up in 1979
How handball odds work
Betting on handball is similar to the action on other head-to-head team sports. This is a basic guide to how the odds work.
Take the example of a match between Canada and France. The odds, expressed as decimals, may read:


Canada
3.2


France
1.5
If you stake C$10 on France, the favourite, you get back C$15. If you put C$10 on Canada, the underdogs, your return is C$32.
Odds can be expressed in other formats, such as fractional and moneyline (also known as American) odds.
But most sportsbooks let you swap between systems to let you choose how you view prices. Try out our Odds Calculator to see how they compare.
Handball betting options
Match bets
The point spread

Also known as handicap betting. The sportsbook sets a figure predicting by how many points one side will win, then gives you a 50-50 choice. You decide whether you think one side will win - or lose - by more than that margin.

Eg:

Canada
-5.5

1.90

Croatia
+5.5

1.90

The moneyline

This time there isn't a handicap, simply a straight choice. Which team is going to win the match?

Eg:

Canada

1.70

Brazil

2.25

Total points - over or under

How many points do you think both teams will score in total? If you think it'll be a higher-scoring match than the sportsbook, the overs are for you.

Half bets

Which side will score more points in the first half?

Eg:

Canada

1.75

Argentina

2.15

Prop bets

Proposition bets, as they are more formally known, do not relate to the outcome of the match. These are special markets on events within a game.

Eg:

Canada to score
the first goal

2.2
Types of handball betting bonuses
Given the amount of competition out there, sportsbooks know that they need to go the extra mile to incentivize today's bettors to sign up with them - and to stick around.
That's why many offer new and existing customers various types of bonuses, the most common of which we've listed below:
Welcome bonus

When you sign up for a sportsbook as a new customer, you get a free bet as a reward for your decision
This is very common among modern sportsbooks, though the bonus can take many forms
We strongly advise you to check the T&Cs so you can be sure the bonus is the real thing

Enhanced odds

If there's a big event coming up, it's a good time to look out for enhanced odds
These usually apply to the result of a match, but sometimes they relate to a prop market
Stake limits may apply, but this offer tends to be open to existing customers as well as new ones

VIP club

Sportsbooks sometimes try to give regular bettors extra value by inviting them to join a VIP club
The idea is to make a customer feel special and included - and it's a way of promoting special offers to them
VIP status sometimes will sometimes win you a free bet or enhanced price that less loyal customers will not get
Mobile handball betting
Everyone in Canada, it seems, has a smartphone. With the betting industry being ultra-competitive, operators vie to make their odds as mobile-friendly as possible.
You'll be able to use betting apps and sites on all types of devices, such as Android and iPhone models. This makes mobile handball betting as straightforward as it can be. As long as you have an internet connection, you'll be able to wager quickly and easily.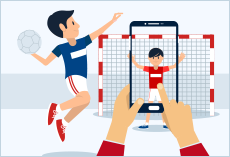 What is handball live betting?
This is a method of wagering after the game has started

Sportsbooks will offer odds that fluctuate quickly according to the way the match flows

You can stake on markets such as who wins the next half

You can still wager on the overall outcome

Bettors enjoy trying to move fast and outsmart sportsbooks as the action unfolds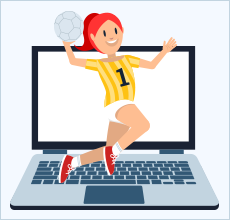 Brief timeline of handball
The first set of rules is written by a Danish gym teacher, Holger Nielsen, as the sport grows in popularity in Denmark, Germany, Norway and Sweden
1906
Field handball, an outdoor version of the sport, is played by men at the Berlin Olympics
1936
The International Handball Federation (IHF) is formed
1946
Hosts Sweden win the second men's World Championship, 16 years after the first
1954
Handball Canada is founded to grow the sport across the nation
1962
Handball joins the Olympic programme for men, with the women's sport following in Montreal for the next edition four years later
1972
Canada's men finish runners-up to Cuba in the inaugural Pan American championship. They have since taken Bronze in 1983 and 2004
1979
Canada's women win the Pan American championship, they were runners-up in 1986, 1991 and 1997
1989
Canada's women finish 20th in the World Championship. They have not qualified since
1997
Canada finishes 23rd in its most recent appearance at the men's World Championship
2005
The IHF estimates there are 19 million players across 166 member federations
2009
Brazil wins the women's Pan American title for the 10th time in 11 tournaments
2017
Denmark wins the men's world title for the first time in 24 participations
2019
How we review the best handball sites
FAQs


What are the best handball betting sites?
The number of handball betting sites is constantly growing, and it can be confusing to know where to go.
Use our guide to find the best places to bet on this exciting sport. That should help you find a site that is fully licensed and offers SSL encryption.
The best sportsbooks offer a wide variety of ways to wager on a game. They also feature bonuses when you sign up, and reward regular customers too.


Where can I bet on handball?
One of the happy consequences of the digital age is that you can now bet on sporting action wherever you are in Canada - relaxing at home or travelling to work.
Most leading sportsbooks now offer extensive markets on the big handball action taking place all over the world.


How do I bet on handball?
You will be able to place bets through your desktop, laptop or smartphone. Most modern sportsbooks have state-of-the-art, user-friendly apps that make betting a straightforward process.


Is handball betting legal in Canada?
Yes it is, but we suggest you make sure the site you choose is fully licensed.


Can I bet on handball on mobile?
Yes, the sophistication of modern sportsbooks means betting on your smartphone is very straightforward.