Best French Roulette Casinos in 2023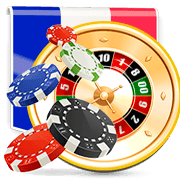 French roulette is the original form of the game, however isn't quite as popular at Canadian online casinos as the European and American varieties. Those looking to make as much money as possible love the French version of roulette, as it offers the best odds of winning, as well as loads of fun and excitement.
This page at OnlineGambling.ca will let you know all of the important points about French roulette online gambling, meaning that you'll then be able to play at the best online casino, and have the best chance of winning some nice amounts of money. There are loads of fantastic casinos in Canada offering French roulette to players, however we think that the best of them all is currently JackpotCity.
On this page, you'll find loads of great information, including:
Where to find the best casinos offering French roulette
How to play this exciting online gambling game
Which online casinos offer the best welcome bonuses
Top French Roulette Sites for Canadian Players
Play Free Roulette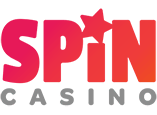 Play at the Best French Roulette Online Casinos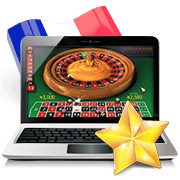 If you want to find the best place to play real money French roulette online, you've come to the right place. We constantly look through the various Canadian online gambling sites offering this game, and create honest and accurate reviews on them, so you can always play at the very best casinos. But what do we look at when reviewing a French roulette online gambling site? Well, there are many different factors, one of which is the security of the site. There's nothing more important than staying safe when you're gambling online, so we make sure that all of our recommended casinos offer the highest levels of protection, and that they are regulated by reputable external organisations.
We also know that bonuses are really important, which is why we try to find the very best welcome bonuses for you, as well as the sites with great reload bonuses and other promotions. Bonuses don't mean anything if you can't easily deposit and withdraw though, so we look at every site's banking options as well. We also carefully analyze the customer service, usability of the site, and much more. The result? Reviews that are completely accurate, and that you can trust.
How to Play French Roulette
Playing French roulette is really easy, so you'll be able to understand the rules quickly. As with all other forms of roulette, the goal of the game is to pick the number or colour that the ball will land on, and doing so will lead to you being awarded a prize. There are many different bets you can make, with the most basic being betting on a single number, and there is nothing stopping you from making multiple bets per turn. Making more than one bet will improve your chances of spinning in a win, but it will also lead to you risking more money as well.
There are some differences between French roulette and the European and American versions. The biggest is the fact that French roulette only has a single zero on the wheel, unlike American roulette, which has both a single zero and a double zero. French roulette also has the La Partage rule, which isn't found at other versions of the game. This means that you'll receive half of your even money bet back if the ball lands on the zero. It's the La Partage rule that ensures that French roulette has the best odds of all forms of the game.
The Odds of Winning at French Roulette
Those looking to make as much money as possible love the French version of roulette, as it offers the best odds of winning, as well as loads of fun and excitement.
As with nearly all games found at online gambling sites, the odds of winning when playing French roulette are less than 100%, meaning that the casino always has the advantage. The exact odds when playing a standard version of French roulette are 98.65% though, which is pretty impressive. This means that if you spent C$100 at a French roulette table, you will, on average, win C$98.65 back.
But how do these odds compare to European and American roulette? Well, the odds at French roulette are better than both of the other types. Due to the lack of the La Partage rule, European roulette has odds of 97.3%. The odds at American roulette are even worse than this, as the double zero and lack of the La Partage rule means that the odds are just 94.74%. This means that those looking to simply give themselves the best chance of making some money should always choose to play French roulette.
There's another important thing to mention about the odds at roulette: they can't be changed. There are some systems that claim that they will lead to guaranteed profits when playing roulette, however they don't. French roulette is a game based completely on chance, and the chances of you winning can't be altered in any way.
Start Playing French Roulette Today!
If French roulette sounds like a form of online gambling you'll really love, then why not start playing today? Simply pick one of the fantastic real money Canadian online casinos recommended by us and sign up. After making a deposit – and claiming a great welcome bonus – you should then be placing bets at the French roulette table in no time at all! If you are still unsure, try some great online roulette games for free.
TOP RATED CANADIAN SITE


JackpotCity
French Roulette FAQ
How does French roulette work?
French roulette follows the same basic rules as all other forms of the game, meaning that you need to predict the number or colour on the wheel that the ball is going to land on. You can place as many bets as you like before the wheel is spun and, if you guess the number or colour correctly, you will then win a real cash prize. You can find out about the prizes at the game's paytable.
Does it use the familiar bets and table layout?
The look of a French roulette table should be familiar to those who have played other forms of the game before. The only differences are the lack of a double zero, which is found at American roulette, and the inclusion of the La Partage rule, which gives you half of your money back if the ball lands on zero and you've made an even money bet.
Is it popular online?
Yes, it is quite popular online, and the majority of the best Canadian online casinos offer it to players at their sites. It is not as popular as European or American roulette though, despite having the best odds of all three. French roulette is also often found at live casinos, but yet again, it's not as popular as European or American roulette.
What makes it different?
French roulette is different to European roulette for one main reason – the La Partage rule, which is only found in the French version. American roulette also differs from French roulette, as the American version has no La Partage rule, and American roulette also contains a double zero on the wheel.
How are the odds different?
French roulette has the best odds of all forms of roulette, due to the La Partage rule and the lack of a double zero. The house edge when playing French roulette is just 1.35%, which means that you should only lose, on average, C$1.35 for every C$100 you bet. In comparison, the house edge at European roulette is 2.7%, while at American roulette it is 5.26%.
Can I use a roulette system?
There are many roulette systems that claim to give players the edge when playing the game, however none of them work. This is because they all rely on a player having unlimited amounts of money, which will never be the case. French roulette is a game based entirely on luck, so it's best to accept this and simply enjoy playing.
Where can I play?
French roulette is a game found at the majority of online casinos in Canada. To find the best place for you to play, simply check out our reviews of the top online casinos offering French roulette, before then signing up with the one you like the look of best. Many sites also offer French roulette at their live casinos, and we'll let you know if this is the case in our reviews.
Is it different to European roulette?
Many people make the mistake of thinking that French roulette is the same as European roulette, but it isn't. They are extremely similar, however French roulette has the La Partage rule. This one rule might not seem significant, however it ensures that the odds at French roulette are much better – something that should appeal to all online casino players.