Best American Roulette Online Casinos in 2023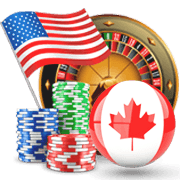 American roulette is an incredibly popular game amongst online gambling enthusiasts in Canada, and is played by huge numbers of people every day. It's no surprise that American roulette online gambling is so popular though, as it brings a great mix of excitement and winning opportunities with every spin – what more could you ask for from an online gambling game?
Whether you're new to the world of online gambling, or whether you're a veteran of the American roulette tables, you should read through this page. On it, you'll find all manner of information, from where to find the best American roulette bonuses through to how to play the game. We've reviewed most of the online casinos in Canada offering American roulette and, at the moment, we think that the best place for Canadians to play this game is JackpotCity.
On this page, you'll find information on:
The best Canadian online casinos for American roulette players
How to play this popular online casino game
Which casinos offer the best security for American roulette players
Top America Roulette Sites for Canadian Players
Play Free Roulette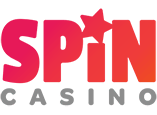 How We Find the Best American Roulette Online Casinos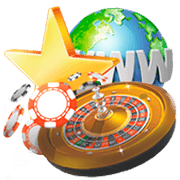 We spend hours and hours looking for the best American roulette casinos for you to play at, so that you can always play at the casino that is perfect for you. When reviewing each casino, we take a number of things into consideration, however perhaps the most important is the bonuses on offer. Some American roulette online gambling sites offer welcome bonuses that are absolutely huge, and you won't miss them when you read through our reviews. We'll also let you know about other bonuses, such as reload bonuses, available at each Canadian online casino we review.
Bonuses aren't all we look at though. We'll thoroughly check the security features at each site, so you can always play with confidence, and we'll also review the customer service, usability and, of course, the range of different games on offer. When you've finished reading through a review at OnlineGambling.ca, you'll definitely have the full picture of a casino! We don't just tell you the good points either – we'll also let you know if there are any bad aspects to a casino. If we really don't think you should play somewhere, we might even place the casino on our blacklist!
A Brief Introduction to Playing American Roulette
If you've played any other forms of roulette before, such as European roulette, you'll have no trouble adapting to the American version. Once you've funded your account with some cash and sat down at the table, it's simply a case of selecting the bets you want to make, and then waiting to see if the ball lands on a number you've selected. Newer players are probably best advised to stick to simple bets, and place one at a time, so that they can learn the rules. More experienced players often place multiple bets per spin though, and use some of the more complex betting options.
The amount you win depends on the odds for that particular selection. For example, someone placing a bet on red will have odds of 1:1, which means that, should the ball land on a red number, they'll double their money. The basic rule to remember is this though: the higher the odds, the more you could win, but the lower the chances are of the bet being a successful one.
The Differences Between American, European and French Roulette
If you've played any other forms of roulette before, such as European roulette, you'll have no trouble adapting to the American version.
If you've never played roulette before, you might think that the three games are exactly the same. While they are certainly very similar, there is one big difference though – American roulette wheels contain both a single zero and a double zero, while European and French roulette wheels only have a single zero.
Those comparing American and European roulette will find that this addition of a double zero means that the odds are worse at American roulette. This essentially means that those playing European roulette should win more money in the long term.
When it comes to French roulette, the odds are even further apart, as French roulette offers the best odds for players. This isn't just because the French roulette wheel doesn't have a double zero, but is also because it has the La Partage rule. This means that players are given half of their bet back when they've placed an even money bet and the ball lands on the zero. In terms of how to bet, and the way in which the wheel is spun, all three games are pretty much identical though.
Get Stuck in Today!
Now you know everything you need to know about American roulette, why not start playing today? Simply read through the reviews on this site and pick the Canadian online gambling site you like the look of, deposit some money, and start playing! Once you've started playing, you'll soon realise why American roulette online gambling is so popular with players in Canada! Alternatively, why not try roulette for free.
TOP RATED CANADIAN SITE


JackpotCity
American Roulette FAQ
How does American roulette work?
American roulette is really easy to play. To start, simply select one or more of the available bets on the board, each of which come with their own odds, which will be found at the game's paytable. The wheel will then spin around, before the ball lands on a number. If this number matches one of your bets, you'll then win a cash prize.
Does it use the familiar bets and table layout?
Yes, the bets and table layout found at American roulette should be familiar to anyone who has played another form of roulette before. The only major difference is the fact that there is a double zero on the American roulette wheel, which is not found in the European and French versions of the game.
Is it popular online?
Roulette is perhaps the most popular table game amongst Canadians at online casinos, and is played by a huge number of different people every day. American roulette is not quite as popular as the European version, however it is more popular than French roulette in most parts of Canada, despite the lower odds of winning.
What makes it different?
The biggest difference between American roulette and the two other forms of the game is the fact that American roulette features a double zero on the reels. This means that the odds of winning are lower than both European and French roulette. There is also no La Partage rule at American roulette, unlike French roulette.
How are the odds different?
Because of the double zero on the reels, the odds at American roulette are lower than those found at European and French roulette. The house edge when playing American roulette is 5.26%, while the house edge at European roulette is 2.7%. French roulette has the lowest house edge of all three forms of the game, as it is just 1.35%.
Can I use a roulette system?
There are many different roulette systems out there, such as the Martingale and the Labouchere, which say that they can guarantee profits when playing roulette. Unfortunately, these systems are flawed, and can't guarantee the promised profits. Roulette is a game based entirely on luck, so it's best to accept this and simply enjoy playing.
Where can I play?
American roulette online gambling is offered at pretty much every good online casino, as these casinos know that the demand for the game is high. To find the best place for you to play, simply read through the reviews on this site to find the site you like the look of. You can then sign up, make a deposit, and start playing.