Online Maestro Gambling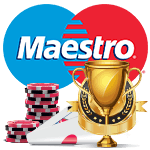 Don't have a credit card but would still like the convenience of credit card casino deposits? With Maestro online gambling deposits, you'll get this convenience but without needing to pay out at the end of the month.
However, not every casino site in Canada will accept Maestro. But not to worry. We're well aware of the best ones that do. We've tried and tested them to see whether or not they'll be a great choice for our readers, as well as making sure they offer:
Huge welcome bonuses & ongoing promotions
Brilliant game selections, including live dealers
Great game odds for lucrative real cash wins
Our favourite casino accepting Maestro is Jackpot City

CANADA'S FAVOURITE

1
Jackpot City
Payment Methods




$3,864,206.00
Mega Moolah Jackpot
Play for the




$3,864,206.00
Mega Moolah Jackpot
Play for the

2
Spin Casino





3
Ruby Fortune





4
Betway





5
Europa Casino





CANADA'S FAVOURITE

1
888 Poker
Payment Methods









2
Bodog




3
FullTilt Poker









4
Poker Stars









5
Unibet




What you need to know about using Maestro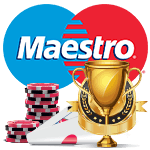 If you're used to depositing to an online casino using a credit card, you'll love the convenience of using Maestro. Online Maestro gambling transactions work the same way, except that instead of owing money at the end of the month, the money comes directly out of your bank account. That's both good and bad. It's good in the sense that it's impossible to deposit more than you can afford to pay at the end of the month since the money already exists. But it's bad in the sense that you can quickly lose track of how many Maestro online gambling transactions you've made and suddenly find yourself with no money left in your account.
That's why, before making your first deposit at online gambling sites accepting Maestro for deposits, we recommend you set aside a budget and stick to it. Never deposit more money than you can afford. If you think you'll have trouble sticking to the budget, set up a separate Maestro account that you can use exclusively for Maestro online gambling transactions. By keeping your online casino gambling funds separate from your monthly expenses, you won't risk losing more than you can afford.
Jackpot City Step-by-Step Maestro Deposit Guide

Find The Right Game
Read over casino reviews and select one based upon your gambling needs. Sign up for an account and click on the game you wish to play.

Choose Your Payment Method
Go to the casinos' Cashier page and scroll down until you see Maestro. Click on this method.

Enter Your Maestro Card Details
Complete the payment form by inputting your Maestro card details. This must be accurate and true. You will only need to complete this task one time. After, all you will need is your SecureCode.

Make your Deposit
Input your desired deposit amount, up to the maximum availability. Submit your payment request.

Deposit Confirmed
In less than a couple minutes, your Maestro payment will be processed. Now you can begin to play your favourite game.
Advantages of Maestro for Canadian casino players
It's as easy as using a credit card

- If you don't want to use a credit card to make an online casino deposit, that doesn't mean you can't enjoy the same convenience. Maestro online gambling deposits are fast and easy, just like they are with a credit card. Simply enter your Maestro card number and you're good to go.

There are no surprise charges

- Instead of getting a credit card statement at the end of the month, all Maestro online gambling transactions are deducted from your bank account. That means there are no surprise charges. Just keep track of your bank account through online banking to ensure you have enough funds.

You can store your Maestro card for future use

- If you expect to make future Maestro online gambling deposits, you can store your Maestro card number with your online casino. When you're ready to make your next online Maestro gambling transaction, you won't need to enter the number again.
How to find a hidden gem
Online gambling should be a lot of fun! Therefore, you must choose the best site that will allow you to use Maestro, and help you to win the big money while having a great time.
Our industry experts focused on reviewing a number of key elements that we feel are integral to your enjoyment of an online casino:
Great Promotions - Cashing in on a sites welcome bonus isn't enough for us, we also want to see regular promotions that reward returning players accordingly.
Safety - Every top gambling sites should have the best security and safety measures possible, otherwise they won't see themselves featuring in our recommended list.
Mobile Play - No one likes to be tied to their desktop nowadays, which is why we always make a point of checking for mobile compatibility when we're reviewing online gambling sites.
Cashout Times - There's nothing worse than hitting a jackpot and then having to wait around for your money, this is why we only recommend sites that boast fast payout times.
Game Selection- We believe that a great site should have plenty of choices. That means offering table games, popular slots, and immersive live games.
Now that you're aware of what we look for when we're reviewing you can play till your heart's content without a worry in the world. It also means that you'll know what to look out for when checking out any new gambling sites.
Things to watch out for
Before you start using Maestro as a deposit method it's important to know if should be taking anything into consideration. This is the case with every banking option in Canada, so it's no surprise that there are a few points for Maestro too.
You may lose track of how many online gambling transactions you've made.
Obtaining a Maestro card cannot be instantly done over the internet, you'll have to go to your bank to request one and wait for the card to be delivered to you.
It's worth weighing these against the advantages to figure out whether or not Maestro will be a great choice for you and your gambling needs.
We found the best Maestro online gambling sites
Ready to make your first online Maestro gambling deposit? Well, this is Canada, so it's not as easy as you think. The number of online gambling sites accepting Maestro is actually pretty low. And of the handful of sites that accept Maestro, only a few are actually trustworthy. So how do you know where to start? Just start with us. We've rated all the Maestro online gambling sites for Canadians and compiled a list of the cream of the crop. Just click any of the links on this page to get started. We'll get you set up with a free account and help you make your first Maestro online gambling deposit. You can get up and running in just a few minutes, so play now.
TOP RATED CANADIAN SITE

Jackpot City
Related Pages
For more information on other payment cards, check out the following pages.
Maestro FAQ
Which casinos accept Maestro?
For Canadian players, the answer is "perhaps not quite as many as you might be hoping." Fortunately, this is slowly changing and you can now use your Maestro card with some international online casinos. To see which ones, just check the listings on our site.
At those casinos that do accept it, Maestro is one of the top choices for Canucks as it's quick, safe (more on that below) and very easy to use. Plus, the fact that money comes directly from your account also means it's very difficult to go over any self-imposed limits as long as you play sensibly.
Is using Maestro safe?
Yes, with all sorts of safeguards in place to prevent your payment details or personal information being compromised, Maestro is definitely one of the safest options for making a casino deposit or withdrawal.
Because online casinos use SSL to protect sensitive data, your card details are encrypted. Maestro itself has been around for a long time, and is part of the MasterCard group, so they've also learned to spot any warning signs associated with fraudulent transactions and will often let you know if any unusual activity appears on your account.
Are there any disadvantages?
One of Maestro's best features is also one of its only disadvantages. Here's what we mean by that–the fact that you can only make deposits to the value of the real cash that you have in your account is good because it means you won't get any nasty surprises when your statement arrives or you check your online banking.
However, let's say that you're on a hot streak and wish to use some credit to supplement your casino or poker activity. You can't do that with Maestro, and will have to wait until you can add more money to your account. This isn't a huge problem, but it does mean that you'll have to fiddle around transferring money between your accounts if you wish to continue playing.