Top Horse Betting Sites of 2018 in Canada
If a little flutter on the ponies is your idea of a good time then you're going to love our top online horse betting sites. These sports betting online gambling pages exclusively offer the best horse racing action from around the world.
In this guide to placing a horse racing bet online in 2018 we'll also explain the different types of real money bet you can make. We'll even share some of our own expert tips to help you make better horse selections. As well as bringing you a shortlist of the top betting sites that Canadian players can place real money wagers on.
With our guide to horse race betting online in Canada you'll discover:
The sites offering the best payout odds on horseracing in Canada
The ways to spread your bet to minimise your losses
The best sports betting internet casinos accepting bets from Canadians

And when it comes to our reviewers' #1 choice for June 2018 Betway Sports takes the biscuit.
TOP ONLINE GAMBLING SITES FOR CANADIAN PLAYERS
Horse Betting Explained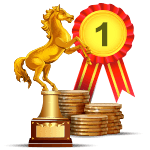 When you bet on horse races you have two types of wagers to choose from: straight wagers and exotic wagers. The main difference between them is that straight wagers allow you to pick one horse which you predict will come in first, second or third, while exotic wagers let you make multiple bets on several horses at once.
We'll explain each bet type in more detail here:
Types of straight wagers
There are the simplest and often the cheapest wagers available:
Straight win – Where you bet that your horse comes first.
Place only – You wager that your horse will either come in first or second place. The odds are better for this type of bet compared to a straight bet, but your payout will be less.
Show bet – You wager that your horse will finish in first, second or third position. Again, the odds for this bet type is better than the previous two, but the payout is comparatively less.
Across the board – This bet type combines all the previous three bets into one. It's more expensive than the other types, but the profit potential is higher.
Types of exotic wagers
Exotic wagers are harder to win and more expensive than straight wagers, so they generally require more skill by the player.
Exacta – With an exacta bet, you're betting on two horses to finish in first and second place in an exact order.
Quinella – With this bet you're wagering on two horses to finish in first and second places in any order.
Trifecta – In this bet type you pick the three horses which will finish in first, second and third position in an exact order.
Tips to Improve Your Experience
Every site featured on this page is the result of hundreds of hours spent reviewing and scoring websites using our rigorous testing protocol.
Horse betting takes the challenge of sports betting to a whole other level because you're betting on the abilities of an animal and a jockey that's hanging for dear life! You might assume, correctly, that horse betting involves a fair bit of luck and thrill-seekers gravitate naturally towards it for this reasons.
However, as more experienced horse racing bettors who had their share of wins and losses at the tracks or online will tell you, there are plenty of things you can do to improve your experience, have more fun playing, and increases the likelihood of pocketing a win.
Here are just a few such tips from our expert horse race gamblers:
Set a budget with limits on how much you'll spend.


This is especially important if you never gambled on horses before. Since it's easy to get giddy with a few early wins and start chasing for bigger payouts.

Learn about horse betting strategy.


This will help you decide where to invest your cash. Statistics show that the top 10 jockeys tend to win 90% of the races and that favourite horses (although yielding lower returns) win 33% of the time.

Put in the research.


Horse race betting has a long-standing tradition and playing online offers a way to take part without having to be trackside. Even so, researching the racecourses and the horses running will put you in a better position to become a winner.
Horse Betting Odds Explained
Every kind of gambling activity has odds of winning. And horse racing is no exception. But how these odds are calculated depends on a combination of different factors. And unlike some online gambling where the odds remain the same throughout. In horse race betting the odds can literally change at any moment - right up until the race begins. So knowing whether to take fixed odds or gamble on them improving is another factor to weigh up when you're betting on the ponies.
Here are the basics of horse betting odds explained in a nutshell:
Fractional Odds
Usually written us as 5/1, fractional odds can also be advertised as 5-1. These odds tell you how much you stand to win back on your stake - should your horse come in as the winner.
For example, in the 5/1 odds we've used here, for every 1 stake you make, you'll receive your stake x 5 back in return. So if you bet say C$5 and your horse places first. You'll get back C$30 (Your original stake of C$5 + C$25).
Odds-On
If the odds appear the other way around (e.g. 1/5) this is known as odds-on and it basically means the horse is a favourite to win the race. If the odds are 1/5 you'll receive your stake back + 1 for every 5 you stake. So not as favourable example 1 as you'd only receive C$6 (your initial C$5 + C$1).
Evens or EVS
If you see this displayed it's the equivalent of 1/1 in fractional odds. And again, means that the horse in question is extremely likely to win the race. In EVS bets for every $1 you stake you'll get your stake + C$1 back.
Favourites
It's not uncommon to see F listed beside a horses name in a race line-up. This F stands for favourite and it's placed next to the horse that's expected to win the race. If more than one horse has the same odds of winning then JF (meaning joint favourite) will be used instead.
Blacklisted Canadian Sports Sites
Blacklisted

OUR RATING

Players have had their bigger winnings cancelled

Blacklisted

OUR RATING

Poor business practices reported

Blacklisted

OUR RATING

Uses poor, unstable gaming software
View our top recommended and trustworthy sports books
How to Find the Best Horse Betting Sports Sites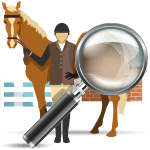 We know how difficult it is to search and compare betting sites online. Particularly since doing so involves signing up for a bunch of accounts first. And then spending time—and money—playing at each one before reaching a conclusion.
So to help you in your quest to find only the best sports betting sites online in Canada our team have personally reviewed dozens at a time. In a bid to help our readers discover the very best places to wages their Canadian dollars.
Only the sites that impressed our team and could prove their fairness have made the cut on here. So when we say these sports betting sites are the best, we really do mean it.
So if you're ready to test out your knowledge of horse racing odds just go ahead and sign up for a free account with one of our recommended sportsbooks online today. And not only will you get a top welcome bonus when you make your first real cash deposit. You'll also get the best odds and the highest payouts available anywhere online too.
TOP RATED CANADIAN SITE
Betway Sports
Get your

C$200 Bonus

at Betway Sports
Get a C$200 welcome bonus
Bet on all major sporting tournaments
Licensed site verified by eCogra
Horse Betting FAQ
Where can I find information on races?
You'll find plenty of information about upcoming horse races in North America and other major competitions around the world by clicking on any our recommended sports betting websites. Go to the horse racing section and you'll be able to scroll through the odds for upcoming races, including the date and time when they'll be held. You can find in-depth information including horse racing tips for Canadian players on this guide.
How do the odds work?
Understanding who odds work is an import part of horse racing. Betting odds are usually presented as fractions which give you an idea how confident the bookers are of a certain outcome and how much you could win if you made a wager.
Odds of 2/1 means that there is a 33.3% (one-third) chance of winning. You can convert odds to percentages by adding the two numbers on both sides of the slash (2+1=3), then dividing the number on the right of the slash by the total and multiplying the result by 100%. (1/3=0.333=33.3%).
You can also find out exactly how much money you can win adding by the numbers on both sides of the slash, diving the total by the number on the right, then multiplying the result by the amount wagered. So if you bet C$10 at 5/2, then 5+2=7, 7/2=3.5, and 3.5 multiplied by C$10 gives you a C$35 return, which is C$25 in winnings plus your C$10 stake.
Can it be profitable?
Yes! Many bettors have won large sums of money betting on horses and made huge profits on their wagers. There are two ways to turn a profit on horse racing: you're either lucky enough to score a big win once which amounts in the five- to six-figure region, or else by taking a skill-based approach and aim to make small wins over a period of time and earn more money in the long-term than you have spent. Remember that profit is the difference between the money you've won and the amount you've wagered to make that amount at the races.
How much can be won?
How much you win depends on how much you bet and the odds available on a certain outcome. Most websites provide you with online betting calculators that let you input the amount you want to wager on a race and instantly show you the amount you could win with that bet. In many cases, the amount you could win is also listed on the betting slip.
Is there a limit to the size of bet?
Not necessarily. Different operators set different limits on the amount of money you can bet on a race. We recommend you check out our list of top horse racing betting sites to find out and compare bet size limits.
Is it fixed?
No. Horse racing itself is regulated by various authorities to ensure that all races are fair and not fixed in any way. Horse racing betting and the operators that provide odds on races are also regulated by state and independent entities that license the sites and carry out regular testing and inspections to ensure they conduct business in an honest and transparent manner.
Where can I find a trusted site?
Right here! As horse betting enthusiasts ourselves we know how difficult it is to find a betting website you can trust. You want to make sure before depositing any of your money that the site you're dealing with is run by reputable and trustworthy people who will respect the outcome of the bet and pay you your winnings in a timely manner. Account security is also a major issue for many bettors who wish to gamble online in a discreet and safe environment.
We've saved you a lot of trouble and disappointment by asking our expert Canadian reviewers to test the top sportsbooks that offer horse racing betting online and score them based on these criteria and more. On this guide you'll find the highest-rated sites for real money horse betting, trusted by millions of Canadian players like you.
Can I watch it live online?
Yes, the major online horse betting sites will provide live streaming services that let you sit back and watch real or virtual horse races as they happen on your desktop or mobile screen.