US Open Golf Betting Guide for 2023
The US Open is one of the four golf tournaments each year known collectively as the Majors. It is known for being played on tough, tight courses that place a premium on accuracy and patience.
Betting on golf is straightforward for fans of the sport in Canada thanks to the customer-friendly nature of modern sportsbooks.
In this guide we'll help you find out:
How betting on The US Open works
What fans and experts enjoy betting on
How to get involved with live betting
Top Golf Betting Sites for Canadian Players
An Introduction to The US Open
The championship was first played in 1895. It's one of golf's greatest prizes and carries the richest purse of all the Majors.
About half the field qualify by excelling in previous US Opens, other Majors and on the PGA Tour

Any other player in the world's top 60 also qualifies

However, special exemptions for certain players are also issued

A field of 156 players starts the 72-hole four-day strokeplay event

Players in the top 60 and ties make it to the final two days

If there is a tie after 72 holes, a two-hole aggregate playoff is held

The winner receives a gold medal and a replica of the original US Open Trophy
How Golf Odds Work
There are a host of available options if you want to bet on The US Open, and golf in general.
Let's take tournament odds to illustrate how they work. The odds about one player winning it may, expressed as decimals, read:


Brooks Koepka
8.0


Dustin Johnson
14.0
For every C$10 you stake on Koepka, you win C$80. If you put C$10 on Johnson, you get back C$140.
However, odds can also be displayed in alternative formats, such as fractional and moneyline (also called American) odds.
The good news is most sportsbooks make it easy to swap between systems so you can choose how you view their prices. Take a look at our Odds Calculator to see how they compare.
The US Open Betting Options
Match Bets
Tournament winner

A perennially popular bet with golf bettors. Largely because it's a simple question: Who is going to win the tournament?

It may be simple but it's not easy. This is an event that attracts the elite, a total of 156 of the world's best players.

Eg:

Lee Westwood

51.0

First round leader

This is a market that takes away some of the variables such as weather conditions later in the week, or less advantageous tee times.

It's also worth noting that some players are particularly fast starters. They are the ones to look for if you want to predict who'll top the leaderboard after day one.

Eg:

Jordan Spieth

12.0

Top 10 finish

This is a market that rewards those who seek out steady, consistent players. Many professional golfers make a very good living without ever making it to the winner's circle as often as they should.

Do your research into current form and the records of players at the event in recent years and you could find the men who make the top 10.

Eg:

Patrick Reed

7.0

Match bets

Let's pare down the field for now and think just about each group out on the course. You can bet on one player to beat those he's playing with – or another competitor elsewhere on the golf course.

Eg:

Tony
Finau

1.60

Xander
Schauffele

2.30

Hole-in-one

Another straightforward bet. Do you think there will be a hole-in-one during the tournament? You could follow a hunch, or research the card of the course and the players competing over it.
Future bets
To qualify for The US Open

Using your knowledge of the entry criteria, it may be possible to find a player with an outside chance of qualifying. There are sportsbooks that will allow you to bet on that likelihood.

Eg:

Paul Smith

21.0

To make the cut

If you think a player is going to do well in the first couple of rounds, you should be able to bet on them to get through to the weekend.

Eg:

Matt Kuchar

2.5

To win next year's US Open

Players do well on certain types of golf course. It's possible to spot someone whose game is perfect for a future competition. In those circumstances, try to find a sportsbook offering odds up to a year in advance.

Eg:

Ian Poulter

21.0
What is US Open Live Betting?
The advent of the digital age means betting no longer has to stop when the action starts

A majority of sportsbooks will offer odds while the action unfolds and adjust the prices to reflect the shifts in the play

You can bet, for instance, on which player in a group will 'win' the next hole

However, you can still play the long game and bet on the outright winner

Live betting is a great way to add excitement while an event is under way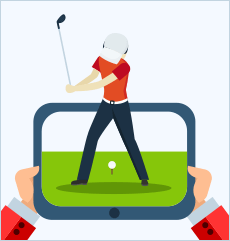 Brief Timeline of The US Open
Englishman Horace Rawlins wins the first US Open at the Newport Country Club in Rhode Island
1895
John J McDermott, 19, is the first American-born winner and the youngest champion
1911
Bobby Jones, the great amateur, wins his fourth US Open
1930
Billy Burke wins the title after a marathon 72-hole playoff
1931
Arnold Palmer stages one of his trademark charges to win with a 65 after starting the final round seven shots back
1960
Sam Snead becomes the oldest player to make the cut, aged 61
1973
Jack Nicklaus is the fourth man to win four US Opens – no one has won five
1980
Curtis Strange beats Nick Faldo in a playoff for the first of two consecutive wins
1988
Hale Irwin, invited by special exemption, becomes the oldest winner at 45
1990
Tiger Woods wins his first US Open by an astonishing 15 shots
2000
Angel Cabrera is the fourth non-American winner in a row – all four were from the southern hemisphere
2007
Graeme McDowell becomes the first European to win the event since Tony Jacklin in 1970
2010
Phil Mickelson is runner-up for a record sixth time
2013
Recent US Open winners
2018

Brooks
Koepka

2017

Brooks
Koepka

2016

Dustin
Johnson

2015

Jordan
Spieth

2014

Martin
Keymer

2013

Justin
Rose

2012

Webb
Simpson

2011

Rory
McIlroy

2010

Graeme
McDowell

2009

Lucas
Glover
Conclusion
The US Open is one of the toughest events in golf, a stern test of a professional's nerve and technique.
For the watching enthusiast, it also offers a feast of betting opportunities. And in an era when virtually everybody owns a smartphone, bettors in Canada can easily get involved with the action.
To get all the details you might ever need about betting on the sport in Canada, check out our golf home page.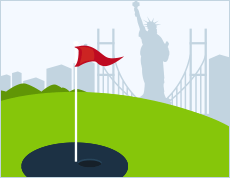 FAQs


What is The US Open?
A tournament with the richest purse of all the Majors. It is held every year on a course in the United States. The final round always coincides with Father's Day.


What are the most popular bets on The US Open?
Experienced golf bettors enjoy the challenge of selecting the outright tournament winner. With a field of 156, and a course that is always set up to be a stiff test, this is a tricky one to get right.


What are the best US Open betting sites?
If you follow our online betting guide, you should find all the information you need to choose a site to bet with. Our recommendations include finding out about subjects such as security, licensing, range of bets and bonuses.


Can I bet on The US Open on mobile?
You certainly can. Consumer-friendly apps are a staple of most modern sportsbooks so you can bet on your mobile, wherever you have service.


What is US Open live betting?
Sportsbooks no longer stop taking bets when the action starts. There are a host of ways you can get involved and back your opinion while the event is running its course.