ProLine Sports Betting Review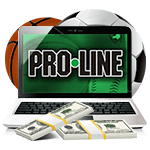 ProLine is a provincially-run sports betting site operated in Ontario. Offering real-money gambling to Ontario residents through the olg lottery site.
Canadian gamblers can place legal bets on a range of sports: hockey, Canadian and American pro football, college football in the US, soccer, and baseball. There are even markets for European soccer matches.
However, ProLine picks are severely limited because of its range of betting. As one of the leading sports betting odds comparison sites, we explore here why ProLine betting odds fall way below those seen on the best overseas sports betting websites.
Why Choosing Sports Betting With ProLine Is a Bad Idea
Limited number of sports to bet on
Low maximum wagers of $100
Only available to residents of Ontario
"Pool"-style betting makes it hard to win huge amounts