Most Common NHL Fines & Suspensions Analyzed
Every game has its rules, and hockey is no exception. And despite a culture defined by tough-guy physicality, the NHL has recently decided to tighten up on a wide range of infractions. When George Parros, the league's senior vice president for player safety, assumed his position in September 2017, he made that mission unmistakable. "We used to be worried about headhunting and major things like that," Parros told reporters. "Now we're worried about slashing and some more minor infractions, you might say."
Tough talk on enforcing long-standing rules is one thing, but the reality on the ice and in the league's boardrooms is another. The record on how fines and suspensions are truly dispensed will tell whether the game's violence is being challenged from above or if it continues despite protestations from corporate.
That data are exactly what we've produced in this project. Tracking the numbers on fines and suspensions from recent seasons, we've studied how the league is addressing the punishment that takes place in the battle for the puck. Ready to find out which players and teams are penalized most? Keep reading.
Frequent Infractions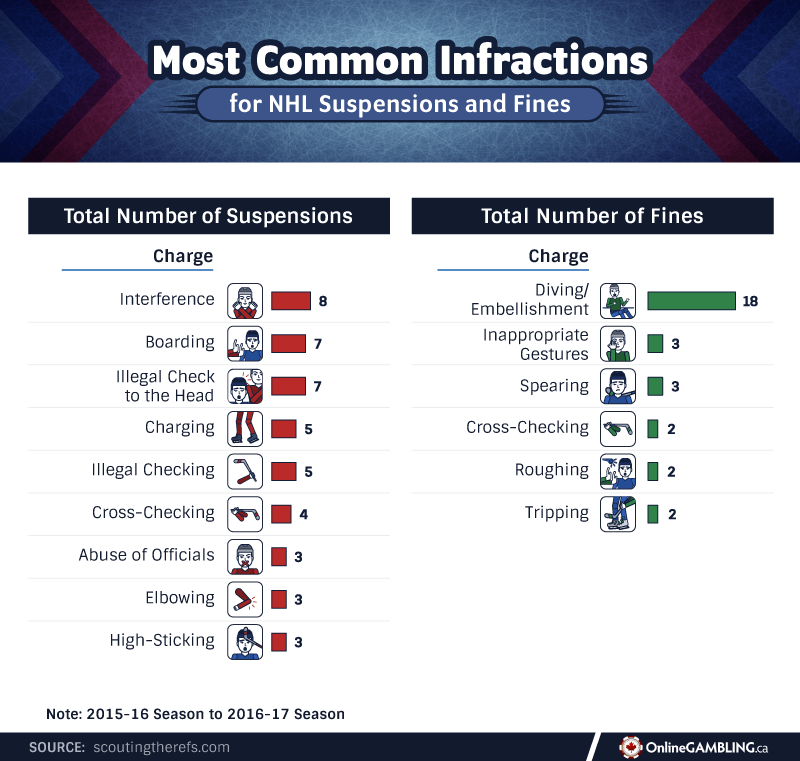 If the NHL's focus has expanded to include minor acts of brutality, eight interference suspensions may be proof of this new mentality. Still, our data also indicate more severe violence prompts plenty of disciplinary action. Illegal checking to the head resulted in seven suspensions during the 2015-16 and 2016-17 seasons. This total included some hits so egregious they made league history, such as one blow delivered by San Jose's Raffi Torres to the head of Anaheim's Jakob Silfverberg. The head check resulted in the second-longest suspension in modern NHL history: a massive 41-game ban.
If suspensions were dispensed for a wide range of behaviors, fines largely addressed petty offenses. Eighteen fines for diving or embellishment were issued during the 2015-16 and 2016-17 seasons. Some have suggested the league's faking problem has improved due to this vigilance, although others complain it's a tactical part of the game. Cross-checking, roughing, and tripping each led to two fines apiece, indicating the league's gritty ethos isn't all a performance.
Fines by Franchise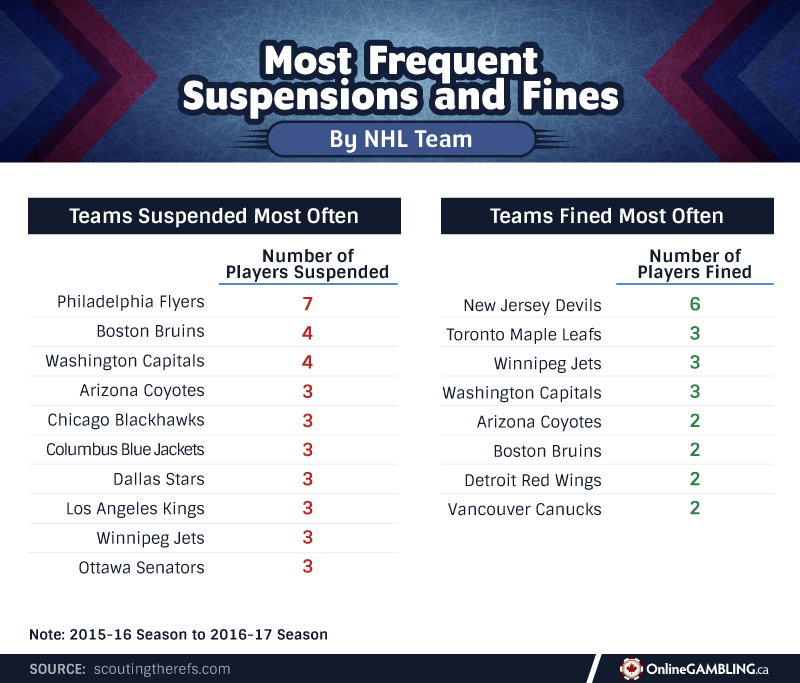 They may hail from the City of Brotherly Love, but the Philadelphia Flyers sure seem to bring the hate once they put on their skates. The team racked up the most suspensions of any team during the period studied, thanks, in part, to the actions of Radko Gudas. The dastardly defenseman racked up a six-game suspension in a 2016 preseason game and sat out three games for a check to the head the previous December. Boston and Washington also distinguished themselves in this regard, tying for the dubious distinction of the second most suspensions.
Turning to fines, New Jersey Devils players were forced to part with their cash on six occasions over the two seasons analyzed. That total was twice as high as any other team, helped by multiple diving offenses by the theatrically inclined Bobby Farnham. Toronto, Winnipeg, and Washington each had three fines levied against their players as well.
Paying for the Penalty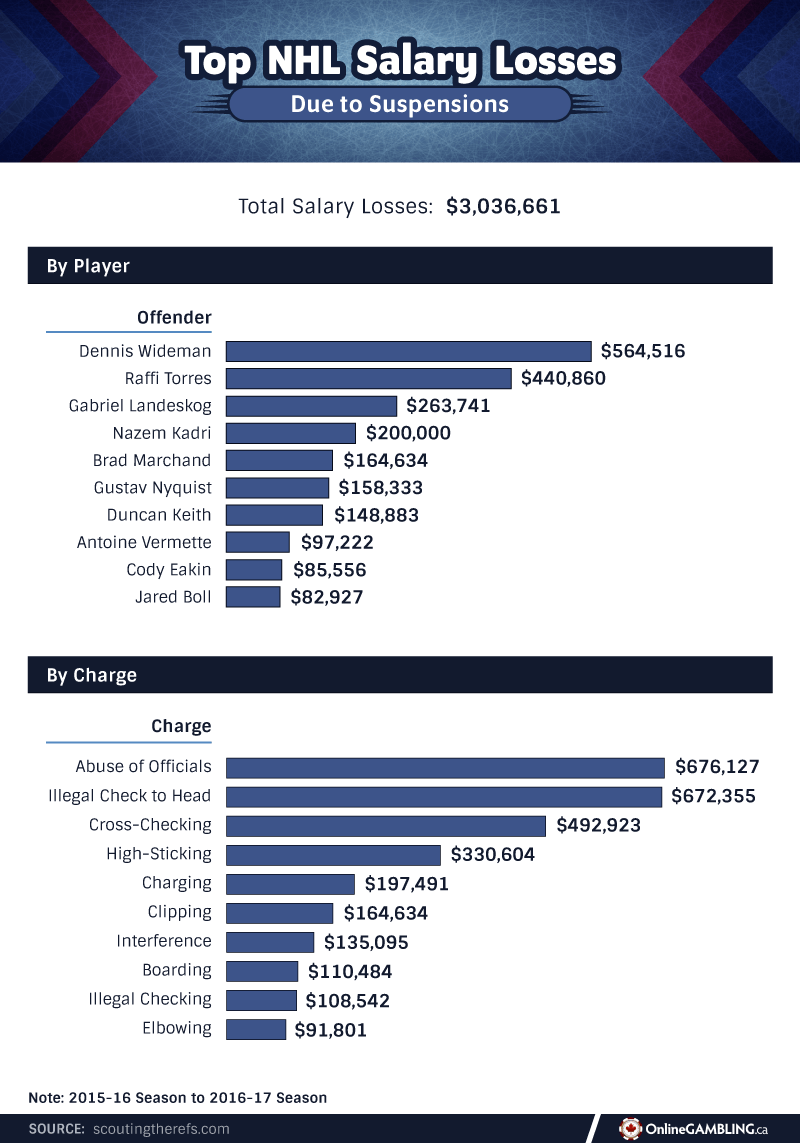 Although fines require explicit payments, suspensions typically put a hurt on players' pockets to a much greater extent. This was certainly the case for Dennis Wideman, whose 10-game suspension for abusing an official in 2016 cost him more than half a million dollars. Wideman's loss could have been much greater, however, as he was initially banned for 20 games before an independent arbitrator opted for greater leniency. The aforementioned Raffi Torres took the second-largest lost earnings hit, missing out on more than $440,000 over his 41-game ban.
While no other players quite matched those hotheads in lost salary, Colorado Avalanche captain Gabriel Landeskog paid the third-highest price for his misdeeds, losing more than $263,000 in salary. That punishment didn't curb his appetite for cross-checking, however: In November 2017, he racked up another suspension for the same infraction. Nazem Kadri also earned a significant bill for a rebellious 2015-16 season with Toronto. The forward's four-game suspension for a check to the head came less than a week after being fined for multiple instances of diving.
The Bill for Broken Rules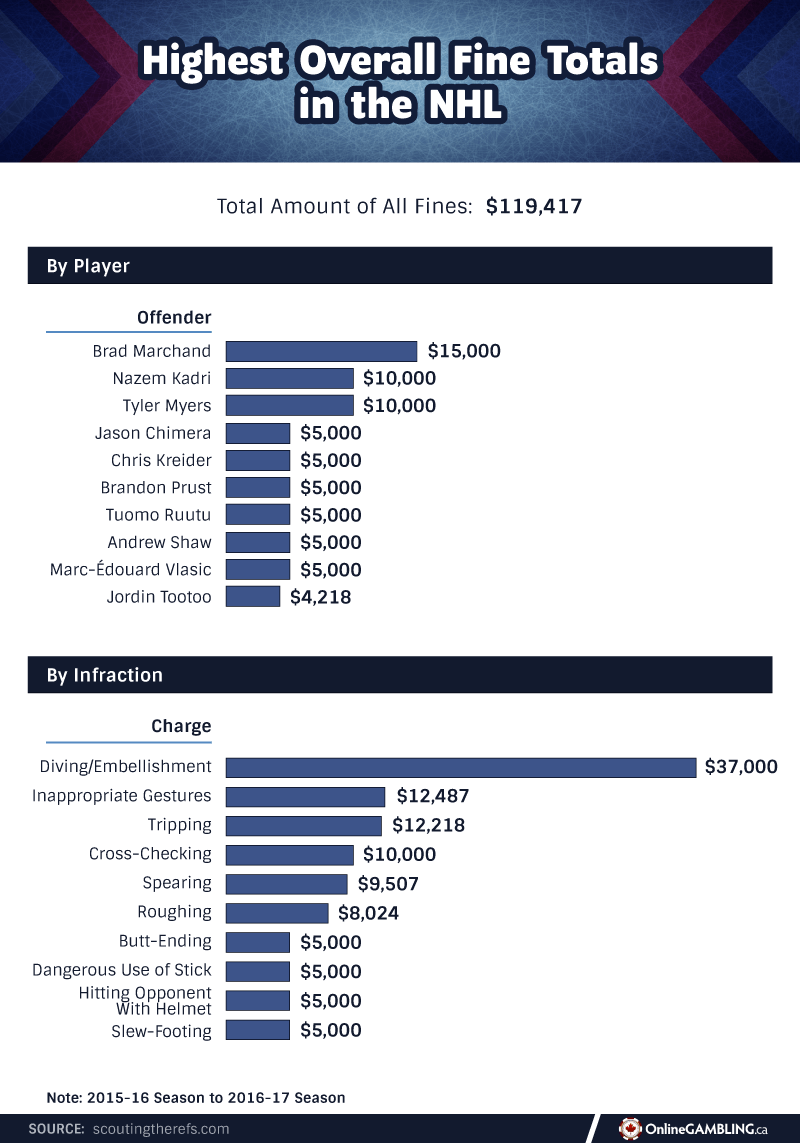 For those familiar with the antics of Brad Marchand, his place atop the fine rankings will come as no surprise. Although indubitably talented, the Boston Bruin's reputation for dirty play has earned him infamy that distracts from his considerable gifts. Marchand was followed by Nazim Kadri, who was fined for inappropriate conduct in addition to the diving discussed earlier. Kadri's fine total was tied by that of Tyler Myers, who has taken issue with the NHL's assessment of his fondness for cross-checking.
Diving or embellishment generated the greatest fines by far, although in a league where the average annual salary approaches $3 million, it's hard to see these measures as anything but symbolic. In fact, the maximum allowable fine is $10,000 under the league's collective bargaining agreement, a sum some critics have called too minor to dissuade dangerous play. Inappropriate gestures and tripping each yielded over $12,000 in fines over the period studied, while cross-checking and spearing fines totaled roughly $10,000 apiece.
Playing Nice on the Ice
Most hockey fans are familiar with the NHL's prevailing narrative: The league is getting more friendly, with fights at historic lows and old-school enforcers a dying breed. But our data show plenty of players still cross lines over the course of a given season, however watchful safety regulators may be. Perhaps the stats on suspensions and fines actually imply the limits of stricter rules in curbing the game's physicality. After all, when players mix it up on the boards, restraint is likely far from their minds – however high the stakes.
If you like to let loose a little in your own life (without the risk of injury), OnlineGambling.ca has you covered. We'll help you find the best betting available online, with expert reviews and bonuses to boot.
Methodology
We collected data from scoutingtherefs.com, a repository of statistics related to officiating and disciplinary actions in the NHL. Our analysis of suspensions includes data from the 2015-16, and 2016-17 seasons. Data for fines were only available for the 2015-16 and 2016-17 seasons.
No statistical testing was performed, so the claims listed above are based on means alone. As such, this content is purely exploratory, and future research should approach this topic more rigorously.
Fair Use Statement
Feel free to use or share our findings and images for noncommercial purposes. If you do, we hope you'll attribute us fairly with a link to this page. Not giving credit won't cost you a fine, but it's a rule violation in our book.