One-Hit Wonders in the NFL
Flash in the Pan NFL Players
The NFL is a fickle beast. Some players get going right away and maintain their killer pace for a decade (or more), and some guys just don't make much of an impact on the field. There's another type of player, though – one that makes a huge splash stats-wise and gives his team's fan base high hopes for the future of the franchise, but one who fades from the spotlight almost as fast as he found himself in it.
Here, we look at some of the league's most volatile players. Which teams have had the most one-hit wonders, and which position is more likely to produce brief flashes of fantastic? Let's find out.
One-Hit Wonders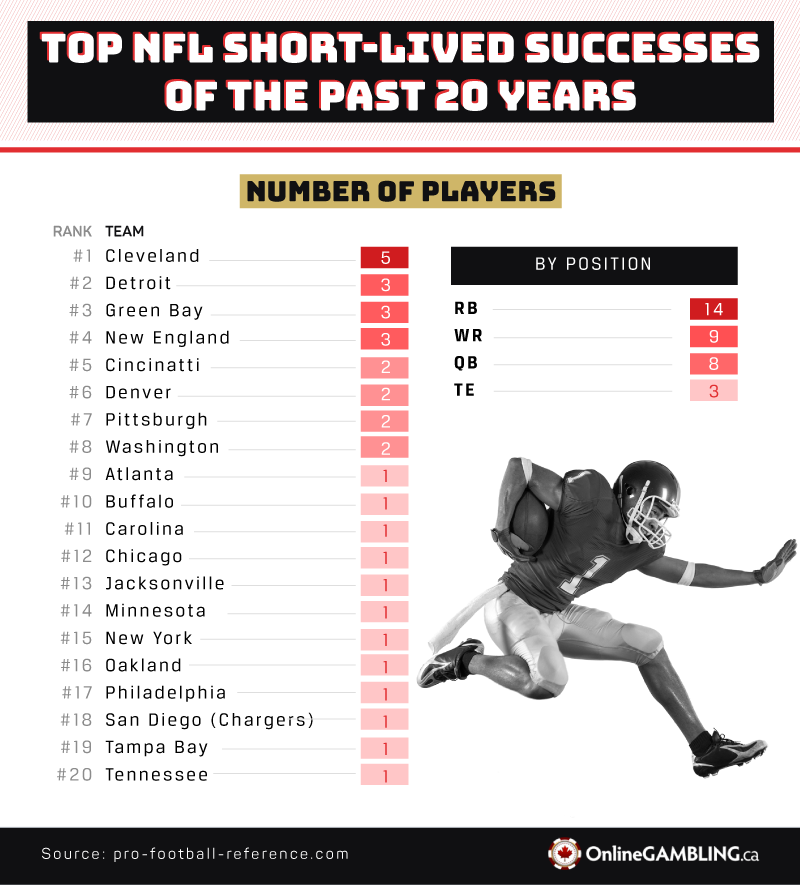 The Cleveland Browns are in the top spot here, which means they haven't had the best luck with superstars maintaining their pace. The Browns have had the benefit of high draft picks over the last decade or so, due to a lack of success on the field (they haven't had a winning record since 2007). Unfortunately, that hasn't always panned out for the club, especially at the quarterback position where they've put a staggering number of players under center who never really found their mojo – and if they did, it didn't last long.
The next few spots are taken up by the Detroit Lions, the Green Bay Packers, and the New England Patriots. While Detroit has fallen short over the last few decades and has yet to win a Super Bowl, the other two teams here have found success despite a few superstar players flaming out.
As far as position-by-position, running backs seem to have the most potential for short-lived success. This may be because the running back position is super physical and requires a ton of contact. They almost always make contact with the defensive line during a run and often end their plays in the bottom of a dogpile, which can impact their health and future playing time. Wide receivers are next on the list, and are often more injury-prone than their running back counterparts, which might account for these findings as well. While not every NFL player that fizzles out does so because of injury, it's still a valid point to consider when looking at the team as a whole.
Quarterback Flame-Outs

There have been a few notable quarterbacks in recent years that had a great season and then didn't repeat that success in subsequent seasons. Let's first look at Derek Anderson, who has been on a few different teams since entering the NFL in 2006. He was drafted in the 6th round in 2005 by the Baltimore Ravens but never played for them. He was picked up off waivers the following year by Cleveland and got a shot at the starting position the following year. He was amazing in 2007, amassing over 3700 yards and 29 touchdowns to only 19 picks. That was his one and only Pro Bowl year, and he dropped off precipitously the following year and never really got back to those highlight-reel days. He's currently on the Bills roster as a backup QB.
Robert Griffin III is another example of a great year followed by not-so-great years. RGIII won the Heisman Trophy as a Baylor Bear and was highly-touted before the 2012 NFL Draft. He was selected second overall by the Washington Redskins and had a super good rookie campaign. He was the 2012 AP Offensive Rookie of the Year and went to the Pro Bowl that first season, and posted the highest passer rating by a rookie QB ever. He also led his 'Skins to their first playoff appearance in five seasons. The story doesn't maintain its excellence, though, as he's had a few injuries that kept him out of the starting role and is currently a backup QB for the Baltimore Ravens.
Receivers Who Didn't Maintain Greatness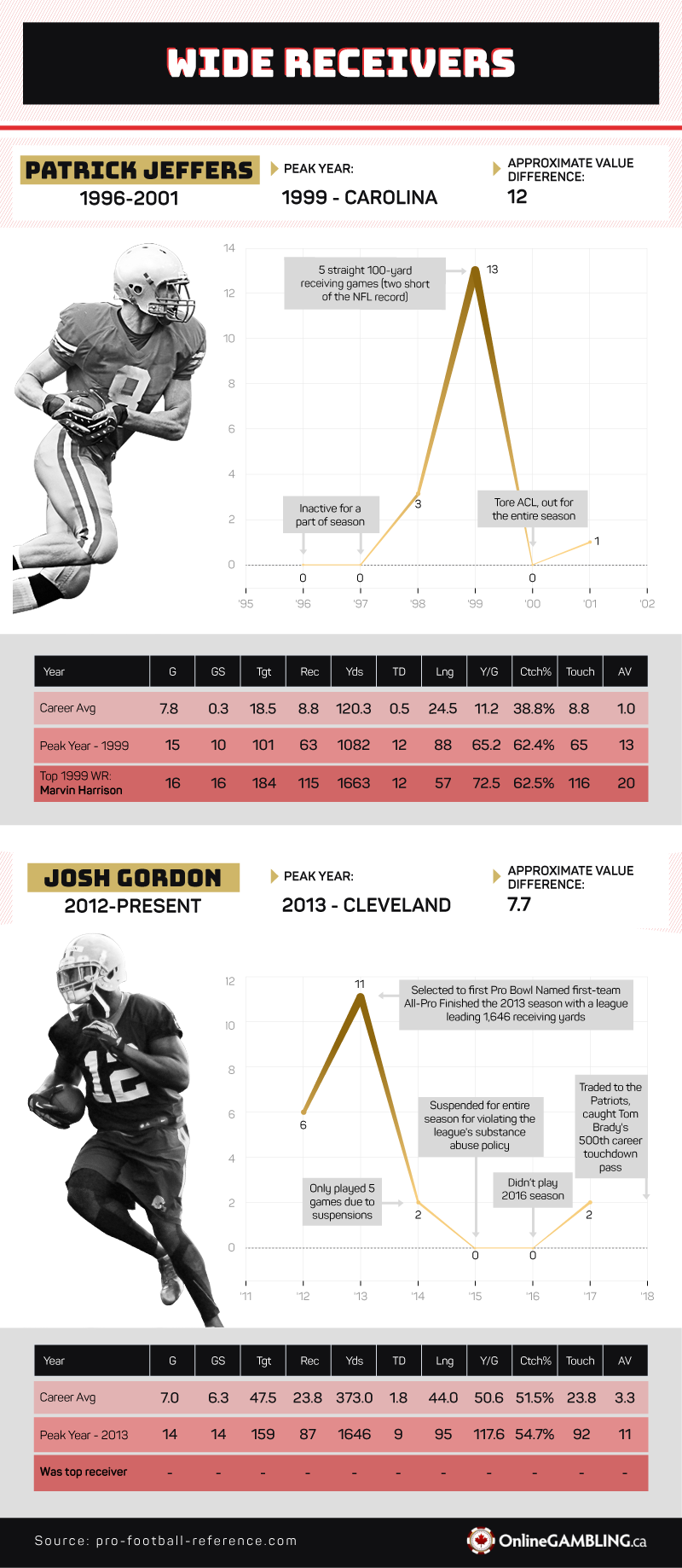 Now we look at a few wide receivers in the NFL who didn't experience fantastic seasons more than once. Patrick Jeffers was drafted by the Denver Broncos in the 5th round in 1996, and played a few quiet seasons there. He wound up in Carolina playing for the Panthers in 1999, where he wound up going off for over 1,000 yards and nabbing 12 touchdowns. However, that was the end of his highlight reel days, as he tore his ACL in 2000 and left the league after the 2001 season.
Another wide receiver who had a great statistical year but then alarmingly dropped off production is Josh Gordon. Gordon was drafted by the Browns in the 2012 Supplemental Draft and had an excellent sophomore season. He led the league in receiving yards in 2013 and went to the Pro Bowl as well. However, off-the-field problems caught up to Gordon and he experienced suspension after suspension as part of the Browns squad. He was recently traded to the New England Patriots, where he caught Tom Brady's 500th career touchdown pass. Hopes are high that he'll return to form, but he has certainly not produced anything at all after that stellar 2013 season.
Running Off the Highlight Reel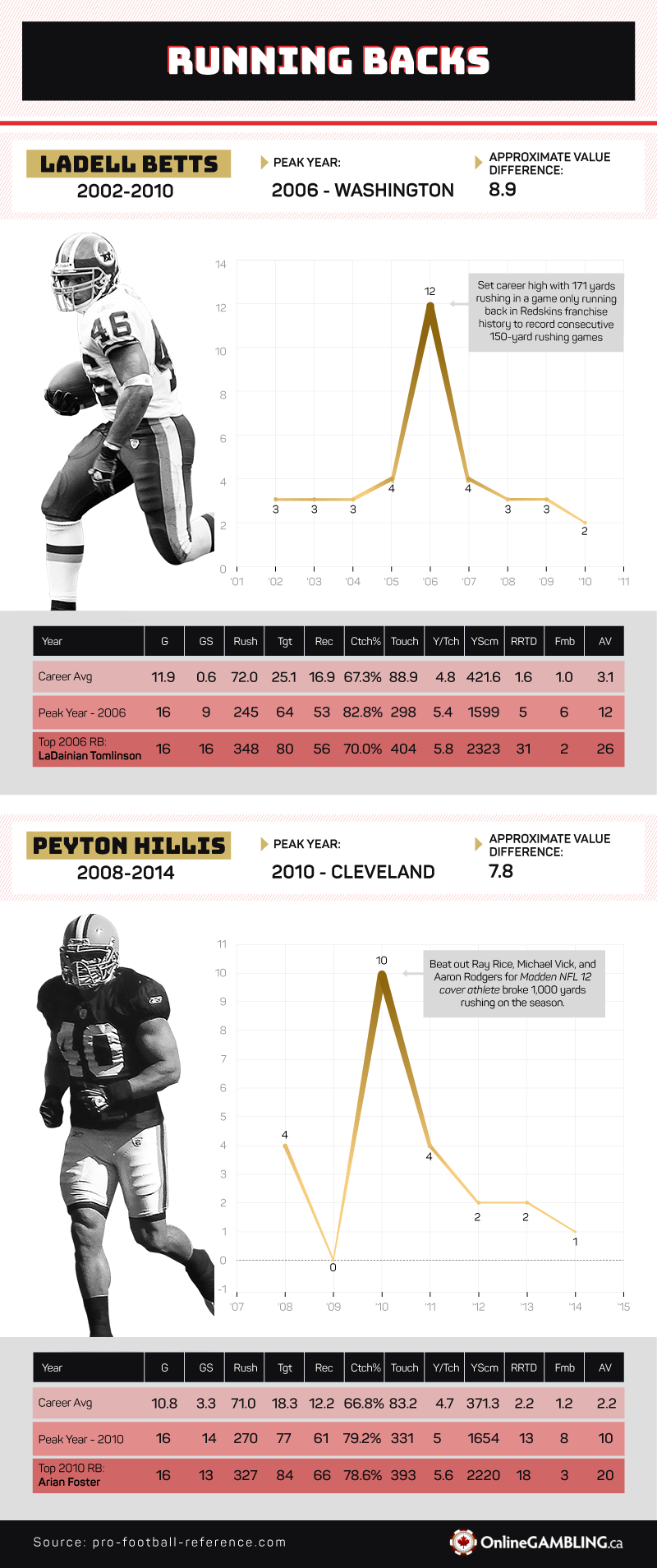 Now, let's take a look at the running back position. Ladell Betts was drafted in the second round of the 2002 NFL draft by the Washington Redskins. His career got off to a slow start, but he had a pretty solid surge for a single season in the middle of his playing years. In 2006 he pounded the rock for 1,154 yards, 171 of which was during a single game. He was the only running back in Redskins history to record consecutive 150-yard rushing games. However, after that brief surge, he never repeated that success and left the league after the 2010 season.
Peyton Hillis is another running back that had a one-hit wonder type of a career. He was drafted by the Denver Broncos in the 7th round of the 2008 NFL draft and had two years of "not much" in the Mile High city. He was traded to Cleveland before the 2010 season and immediately had an impact for the club, racking up 1,177 yards on the ground with 11 touchdowns. Unfortunately for Hillis (and the Browns), he didn't repeat that success the following year and spent the last few years of his NFL career with a couple of different clubs before calling it quits.
More Cleveland Woes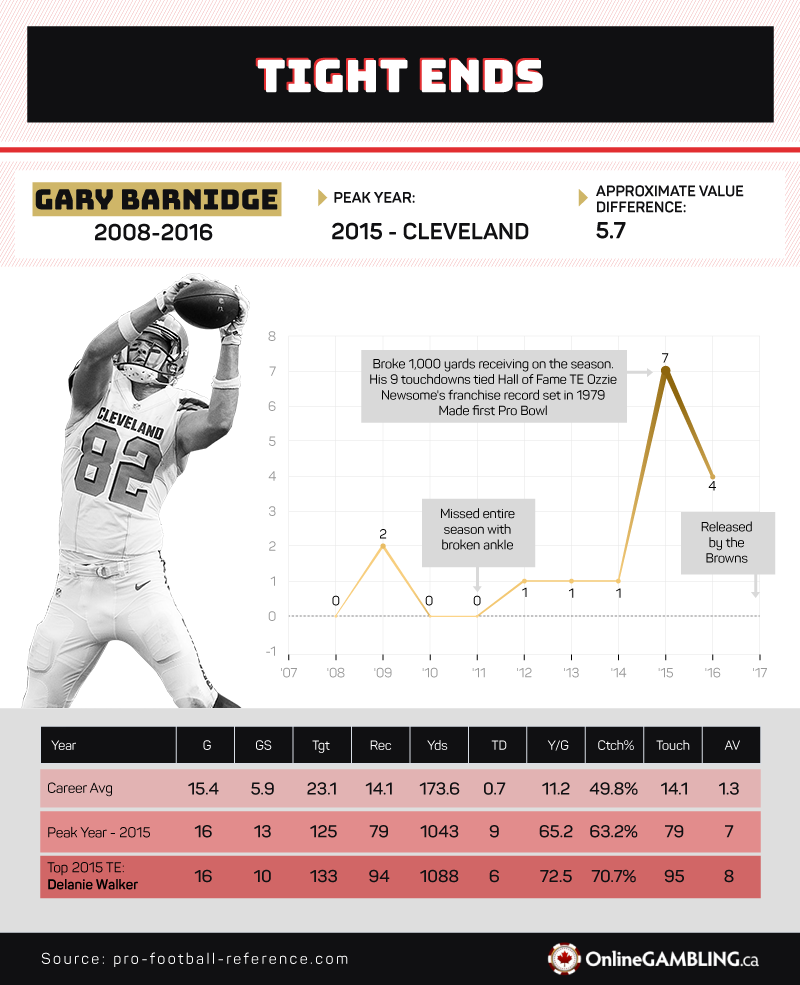 Here's another tale of Cleveland sadness, courtesy of a tight end. Gary Barnidge, drafted in the 5th round by the Carolina Panthers in 2008, was pretty quiet for the first handful of seasons, including one where he missed the whole thing thanks to a broken ankle. He wound up in Cleveland in 2013 and continued playing at a very quiet level, but in 2015 he wound up in the Pro Bowl thanks to a great season where he had 1,043 receiving yards seemingly out of nowhere. The success didn't continue, however, and after another average season, he was released by the Browns after the 2016 season.
One Season Does Not a Superstar Make
While an excellent season can boost the hype of any player in the NFL, and can result in excellent personal stats and one-season accolades, that unfortunately doesn't guarantee staying power, especially in a league where highlight reels can define a career.
The running back position seems to produce the most one-hit wonders, but often it's the quarterbacks that make the headlines, especially when they won the Heisman while in college or posted season stats that are up there with the best of them.
Methodology
After researching "one-hit wonders" of the NFL, we compiled a list of the players appearing on lists most frequently across the internet. From there, we collected their stats from https://www.pro-football-reference.com. Using the Approximate Value score from Pro-Football-Reference (AV Methodology here), we filtered for the players with the highest difference between their highest career Approximate Value and their career average Approximate Value. The highest AV difference was 12.2 and the lowest on our list was 5.7. Our project only includes players from 1998 to 2018.
Sources
Fair Use
One-hit wonders aren't totally uncommon in the world of entertainment, and the NFL is no exception. If you're wanting to share our findings, please feel free to do so – but make sure you link back to this page, so our superstars can get the credit they deserve!