Odds of Becoming an NBA Player

Not just anyone can make it to the NBA. It takes years of hard work and perseverance to even get a shot, and NBA hopefuls really need to commit to basketball as if it's a full-time job. Even then, many unfortunately fall short. The NBA draft is pretty small, especially when compared to the other big sports leagues in the U.S. – in fact, there are only two rounds and 60 total players selected on draft day.
It is rare, then, to land on an NBA team. Knowing this, when we look at various NBA players, it's easy to see how much work (and time) has to be put in to rise to the top and make that leap to the big leagues. Let's take a look at where these players hail from, which cities have contributed the most NBA big shots, and how certain areas of the U.S. may be producing more top-dog ballers than others. Continue reading to learn more.
Hometown Heroes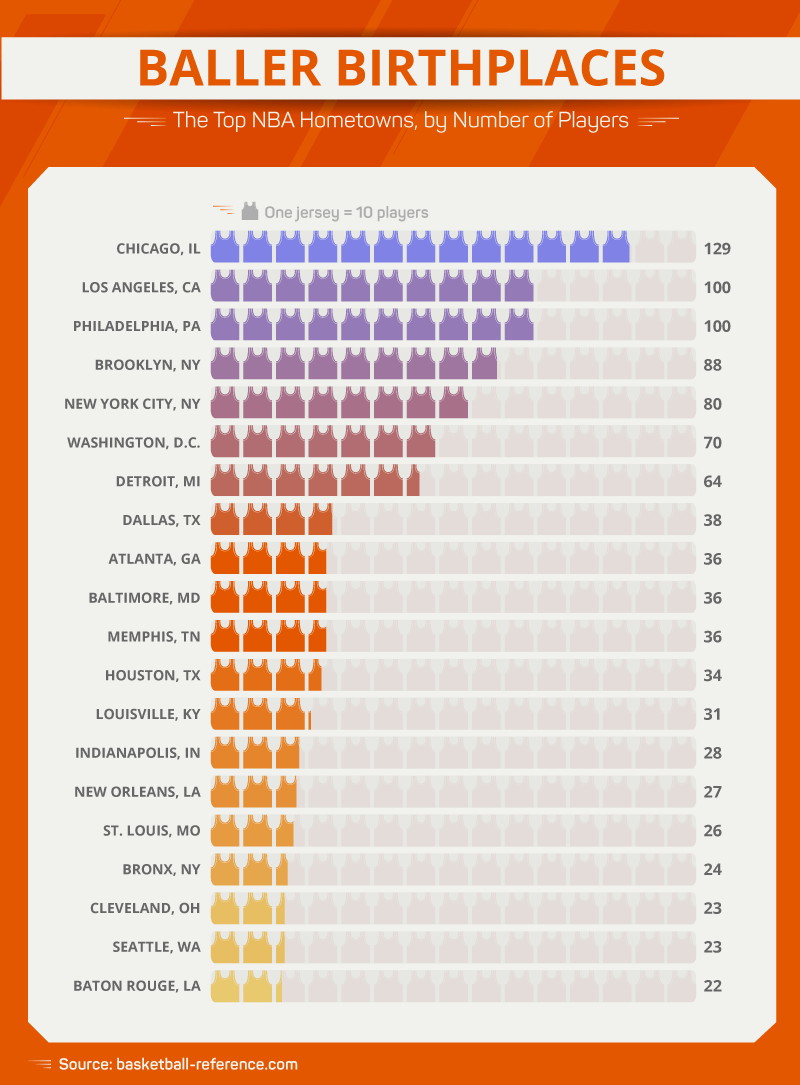 Which cities contribute the most NBA players? Chicago, Illinois, came out on top here with 129 players, which is 29 more than the second and third cities on this list – Los Angeles and Philadelphia. Brooklyn, New York City, Washington, D.C., and Detroit have all produced more than 50 NBA players each as well.
Chicago is a city with an iconic NBA team for hopefuls to look up to (the Bulls). Also, there is much to be said about Chicago's vibrant park system and abundance of gyms – basketball is truly a way of life in the Windy City.
Los Angeles is a basketball town. Home to two NBA teams (the Lakers and Clippers), high school kids have plenty of inspirational athletes to look up to. School basketball programs can also be extremely competitive, particularly for Westchester High and Fairfax High, which enjoy a decades-long rivalry that helps push each player to be his or her best.
North, East, South, and West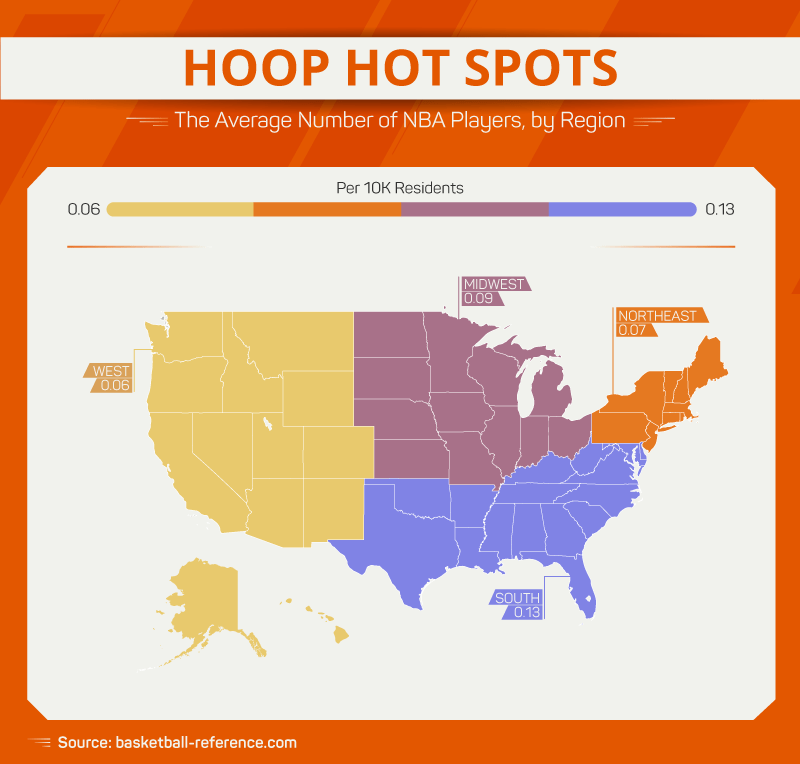 When looking at the U.S., some regions stand out a bit more than others when it comes to the number of NBA players per 10,000 residents. The South had the greatest average number, followed by the Midwest, Northeast, and West.
While football (particularly college football) reigns in the South, this region of the U.S. has still produced the most NBA players. Dallas and Atlanta are both in the top 10 cities for NBA hometowns, and there are quite a few teams in the South to inspire the youth, including the Charlotte Hornets, Dallas Mavericks, Miami Heat, and New Orleans Pelicans.
The Midwest came in second with 0.09 players per 10,000 residents. It stands to reason that the region would rank highly, considering it includes Chicago –home to the most NBA players – and the Chicago Bulls, the primary team of arguably the greatest NBA player in history, Michael Jordan.
State-by-State Sports Stars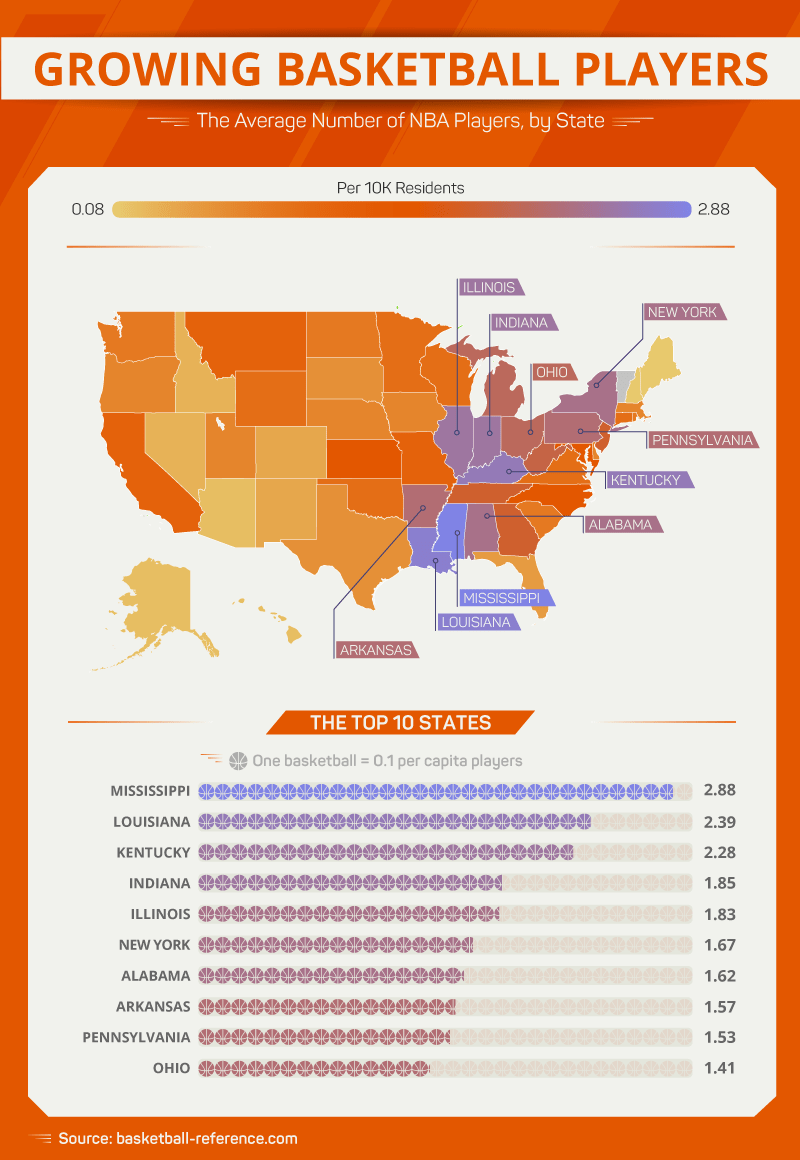 Based on our findings, two states in the deep South produce the most NBA players per 10,000 residents: Mississippi and Louisiana. Given the fact that football is king in this region of the country, it is surprising to see that so many NBA players come from these two states. Kentucky is an almost expected addition to the list, with the the storied tradition of college basketball in that state. Between the perennial basketball powerhouses of Louisville and the University of Kentucky, it makes sense that Kentucky would inspire young talent at a high rate.
New York is another state with plenty of indoor gyms and street courts available for those who wish to pick up a game. As the state with the sixth highest rate of NBA players, there are a ton of opportunities for playing ball, and the numbers support that.
From L.A. to the NBA
No matter where someone is from, the chances are still pretty marginal for making it all the way to the NBA. Looking over the rosters of all 30 NBA teams, you get an idea not only of where the players hail from, but also how hard they had to work to make their way to the top. Still, if you had to bet, Chicago is the top city for aspiring NBA players; however, the odds also favor Mississippi and the South as a whole.
Methodology
Player hometowns were gathered from basketball-reference.com. Population data were based on information from the U.S. and Canadian census programs.
Fair Use Statement
Want to share this with aspiring NBA players? Feel free to use any of the graphics included above for noncommercial purposes. Just give credit where it's due by properly citing OnlineGambling.ca in your coverage and provide a link back to this page.