Life of Brian Slot Overview
The Life of Brian slot will delight Monty Python fans, as it brings the 1979 legendary comedy movie to life with added casino gaming fun. It's more than just John Cleese, Michael Palin and co, as this unique Playtech slot also provides a progressive jackpot, five reels and 30 paylines with scatters, free spins and wilds galore.
In our Life of Brian slot review, we'll explain how to play this Monty Python-themed game for real money, as well as explore all the best features and ways to win.
Life of Brian Slot General Info
Slot Type
Progressive jackpot
Slot Reels / Paylines
5 reels / 30 paylines
House Edge / RTP
94%
Min/Max Bet
0.30 / 999.90
Max Win
C$49,995 (progressive)
Free Spins
Always Look on the Bright Side of Life free spins bonus
Slot Themes
Life of Brian movie; Monty Python; Ancient Rome; comedy
How to Play the Life of Brian Slot Game
Play with all your favourite Pythons in this painstakingly designed slot game that channels the energy of the movie for plenty of laughs. The abundance of bonus rounds and chance at a progressive jackpot will please new players, movie fans and regular gamers alike. Follow the steps below to start betting: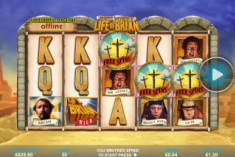 Use the plus and minus stone buttons to control how much you want to bet per line. You'll see the total bet on the other side of the win box.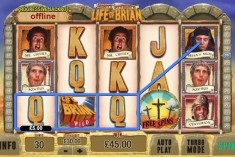 To spin the reels you can press the large spin stone on the right, or choose from autoplay options. Choose Turbo Mode to speed up the game.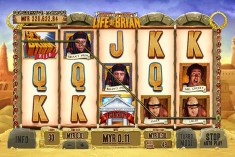 3
Win a Progressive Jackpot
To win the Life of Brian Jackpot you'll need luck and patience. The big prize pot is won sometimes when the Foot of God stamps over the reels at random.
What are the Best Casino Sites to Play Life of Brian for Real Money at?
1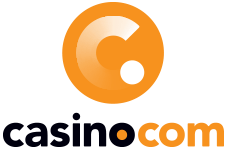 C$1,500
Bonus
2

C$5,000
Bonus
3

C$1,500
Bonus
Life of Brian Slot Game Features
Life of Brian Slot Symbols
Symbol
3 Symbols
4 Symbols
5 Symbols


Life of Brian (wild)
100
500
1,000


Brian
60
300
1,000


Brian's Mum
50
200
500


Pontius Pilate
40
150
300


Centurion
30
120
200


Mr Cheeky
30
90
150


Jailer
30
60
100


Brian Temple (triggers the bonus wheel)
-
-
-


A
5
30
50


K
5
20
40


Q
5
10
30


J
5
10
20
Life of Brian Slot Bonus Round
There are a whopping 10 bonus features for players to enjoy with Life of Brian. It all begins with the Life of Brian Wheel, which is triggered by three Brian Temple symbols and has four bonus rounds within it. There are also further free spins, re-spins and mini bonuses.
The bonus rounds are as follows:
Stoning Bonus: choose characters to throw stones at and tug beards for prizes.
People's Front of Judea Bonus: reveal what the Romans did for you.
Romani Ite Domun Bonus: paint anti-Roman graffiti on the walls to win credits.
What's So Funny: stop guards from laughing to gain a higher bonus.
Wild Spaceship Re-spins: Brian is caught by spaceship, causing a wilds and re-spins.
Foot of God Progressive Jackpot: The Foot of God randomly awards prizes, including the jackpot.
Pick a Holy Item: choose an item to win a cash prize.
Pledge Your Allegiance: choose a faction and win a prize.
Always Look on the Bright Side Free Spins: crosses on reels 3,4 and 5 trigger free spins and a Crucifixion Bonus if you collect 3 scatters.
Crucifixion Bonus: choose a person to collect a prize or retrieve free spins.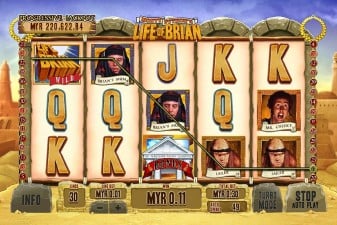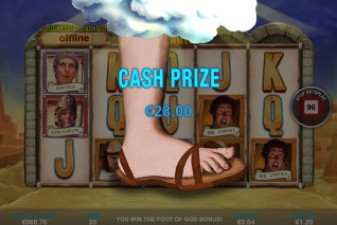 Life of Brian Slot Theme
Playtech's Life of Brian slot theme is aptly brimming with the satire, fun and humour of the British movie. Fans of Monty Python will love seeing the faces of their favourite actors and characters, and all of their quirks, brought to life in a slots setting.
The loosely Ancient Rome and Biblical theme is present in all aspects of the game, so much so that it feels like a true labour of love from the designers. And its exaggerated old-style animations mixed with modern graphics and the clips with memorable quotes will delight movie buffs.
But where the theme truly excels is in the bonus features, which are filled with twists on the original movie action and make for a truly memorable gaming experience. If you haven't seen the movie, you can still enjoy playing but you'll be missing all the in-jokes.
Life of Brian Slot | Mobile vs Desktop
Luckily you can play the Life of Brian slot on both mobile and desktop. There's no need for downloads, as you can use your regular browser to play the game through an online casino. And the game should be compatible with all major devices, be it a desktop computer, iPhone, Android or tablet.
But if you're still unsure about the Life of Brian mobile slot, check out our thoughts below:
Mobile
No download option
Play on the move
Ideal for a quick game
Desktop
Larger screen for graphics
More immersive experience
You can stay plugged in for the long-haul
Our Verdict of the Life of Brian Slot Game
Overall, Life of Brian by Playtech is first and foremost for fans of the movie. Sure, you can still play it and enjoy all the exciting features and the progressive jackpot, as no prior knowledge is required. But we suggest you watch the movie first instead to benefit from the full experience.
Existing fans will love it thanks to the dedication to the source material and ability to capture the randomness and fun of the movie. It's simply good old-fashioned fun. But aside from the theme and corresponding soundtrack, there's still a lot to love.
With free spins and absolutely bonus of thrilling bonus games and opportunities to win cash prizes, it's hard to get bored of this slot. The one major drawback? There really only is one: if you're not a fan of Monty Python.
Hits
Progressive jackpot
10 bonus features
Free spins
Fun movie theme
Entertaining gameplay
Misses
No free game option
Jackpot wins are random
Life of Brian Slot Game FAQs
Is the Life of Brian slot game safe to play?
Yes. The Life of Brian is a well-known slot that is available to play at most reputable online casinos. It is provided by Playtech, who are a big name in the slots game.
Can I play Life of Brian slots for free?
What is Life of Brian's RTP%?
How can I win playing Life of Brian slots?
Does Life of Brian have a progressive jackpot?
What are the biggest wins on Life of Brian slots?
Where can I play the Life of Brian slot game?