Bier Haus Slot Overview
The Bier Haus slot is a unique title from hotshot software developers WMS, and based on a German beer house. For this game, think Oktoberfest combined with locked wilds, 40 paylines and free spins galore, with a chance to win up to 250,000 coins.
In this Bier Haus slot review, we'll take a look at how to play online for free or real money, cover what the symbols mean, whether the game is compatible for mobile and more, to help you get started.
Bier Haus Slot General Info
Slot Reels / Paylines
5 Reels / 40 Paylines
Min / Max Bet
0.40 / 40.00
Bonus Rounds
Free Spins Bonus Round
Slot Themes
Oktoberfest; Beer; Pubs; Germany
How to Play the Bier Haus Slot Game
It couldn't be easier to start playing the Beer Haus slot, or the 'beer house slot', online. Low-rollers and high-rollers alike are attracted by the fun theme, which abounds with light-hearted clichés, and the novelty of fixed wilds. The only difficulty arises when trying to keep track of some very similar symbols, but we'll get on to that later.
If you're ready to start gaming, read our tips below for how to begin: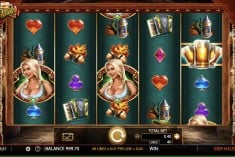 To get those reels rolling, simply press the circular button with the arrow inside and the spins will begin.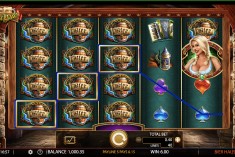 To get those reels rolling, simply press the circular button with the arrow inside and the spins will begin.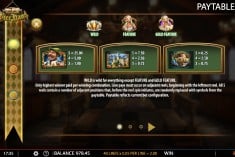 There's no progressive jackpot in Bier Haus but you can land rewards by revealing matching but adjacent symbols on the reels.
What are the Best Casino Sites to Play Bier Haus for Real Money at?
1

100% up to $1,600
Bonus
2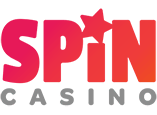 C$1,000
Bonus
3

C$750
Bonus
Bier Haus Slot Game Features
Symbol
2 Symbols
3 Symbols
4 Symbols
5 Symbols


Beer Steins (Persisting Wild)
-
-
-
-


Blonde Waitress, Green Background (Feature)
-
-
-
Activates free spins mode


Blonde Waitress, Purple Background (Gold Feature)
-
-
-
Activates free spins mode


Bavarian Man
-
0.20
1.00
5.00


German Castle
-
0.15
0.50
1.50


Bavarian Tankard
-
0.15
0.50
1.00


Beer Keg
-
0.15
0.50
1.25


Chestnut
-
0.10
0.25
1.00


Accordion
-
0.10
0.25
1.00


Pink Diamond
-
0.05
0.15
0.75


Purple Club
-
0.05
0.15
0.75


Red Heart
-
0.05
0.15
0.75


Blue Spade
-
0.05
0.15
0.75
Bier Haus Slot Bonus Round
The Bier Haus bonus round is essentially just free spins mode. And here is where it gets a little bit confusing regarding the feature and gold feature symbols, as both are identifiable by a blonde waitress character, just with different background colours. The feature symbol is a waitress with a purple background, while the gold feature is a waitress with a green background.
To trigger the free spins feature you'll need to land five of any of the waitress symbols, in any combination, and this will reward you with a minimum of five free spins. You can actually win up to 80 free spins in this part of the game, however, depending on whether you land more feature or gold feature symbols, with each extra one providing yet another five free spins each.
For every gold feature symbol that is included in the feature trigger, she'll be replaced by the persisting wild, which is the symbol featuring three beer steins but with an added gold border. These will launch the free spins feature and stay locked into place on a single reel.
But that's not all as, if the feature or gold feature symbol lands on the persisting wild, this can combine to create a wild feature for one spin only. This is special as it will substitute for all symbols and, should you find five or more, can provide yet more free spins.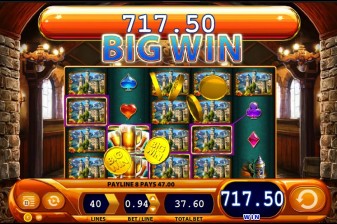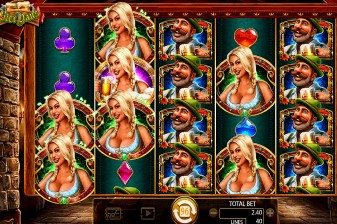 Bier Haus Slot Theme
From the intro/loading screen, which features two welcoming characters brandishing beers in a cozy German-style tavern, through to the bar song cheering you on in the bonus round, this WMS slot wants to make you feel at home as you play. The Bier Haus slot theme is undoubtedly a homage to what the Brits would call a stein, or a large pint, and is a riff on traditional German ale houses.
Thanks to a backdrop of the inviting inside of a tavern decorated in wood and brick, and of course adorned with kegs, the theme continues. The intermittent soundtrack of pub chatter adds to the vibe of the virtual pub too.
You'll aim to land three frothing and overflowing beer steins full of golden ale, as the coveted wild or persisting wild. As well as a waitress and a male character in traditional dress, chestnuts, accordions, scenic German castles with a mountain background, ornate Bavarian beer tankards, beer kegs or card symbols.
Bier Haus Slot | Mobile vs Desktop
Players who enjoy options can play both the Bier Haus mobile slot or the desktop version, depending on your location.
If you own an Android tablet or device or an iPhone or iPad on iOS you'll have no problem playing on the go. For a no-download option, simply use your normal web browser and access a reliable online casino.
Mobile
Some browsers offer landscape mode
Optimized for mobile viewing
Compatible with Android and iOS
Desktop
Choose a full screen
Choose a reduced screen
Enjoy the bigger graphics
Our Verdict of the Bier Haus Slot Game
The Bier Haus slot game boasts an almost universal theme and appeal. This online slot is upbeat, colourful and full of fun, so it's bound to lure a mix of gambling beginners and pros, high-rollers and low-rollers.
There is notably no autospin option, which means this is a slot you need to be involved in, and the very similar feature symbols can make the complex free spins round a bit confusing if you're not paying attention. But, as all you need to do is select your bet and press spin, these are minor concerns in what is an otherwise hugely enjoyable game.
The payouts can be modest but, if you stick with it, this online game's locked wilds aspect and generous offering of up to 80 free spins is enough to keep anyone hooked on the potential of a bigger payday.
Hits
Locked wilds
Up to 80 free spins
40 paylines
Mobile compatibility
Fun German beer theme
Misses
No autospin option
Similar symbols
Confusing free spins rules
Is Bier Haus safe to play?
Yes, Bier Haus slot is safe to play. WMS are a well-known and respected software developer and supplier of online casino games.
You'll find Bier Haus at most reputable gambling sites, but always make sure you trust the safety measures before playing for real money.
Can I play Bier Haus for free?
What is Bier Haus' RTP%?
How can I win playing Bier Haus?
Does Bier Haus have a progressive jackpot?
What are the biggest wins on Bier Haus?
Where can I play Bier Haus?