How Gambling Bonuses Work
Last updated | February 22, 2020
One of the biggest perks of real money gaming are online gambling bonuses. These bonuses are essentially free money or credits given to you by your gambling site to wager with, to cover tournament entry fees, and sometimes even to exchange for awesome prizes such as trips to Vegas.
There are several different types of bonuses as well as many methods of getting them. Online gambling sites will offer various bonuses, and some will suit certain players and others won't. Many players want a bigger percentage paid in on their deposit, others want more time or flexibility to use a smaller bonus.
If you're confused or bewildered by the choice of online gambling bonus offers then let us help. We have listed many of the bonus types below, so read on to discover how to start getting some extra bang for your online gambling buck.
Types of Bonuses
If you're new to the world of online gambling, the first type of bonus you'll encounter is a sign-up bonus, which you get after registering for a new online casino or poker site. After signing up and putting money into your account, the casino will "match" either a percentage or all of your initial deposit up to a certain amount of money. For instance, if a casino offers a 100% match bonus at sign up, you'd receive a free C$100 if you deposited C$100 into your account. Sign-up bonuses are pretty much standard nowadays, and it's no surprise that some of the most popular online casinos also offer the biggest ones out there.
Don't get any ideas though, because usually this bonus money is kept in an extra "bonus account" and can't be withdrawn until you wager a specified amount of money. Similar to these, some casinos also give reload bonuses on any additional deposit you make on their site. Sometimes this bonus is a flat figure while other times it's a percentage of whatever you deposited.
VIP and Loyalty Bonuses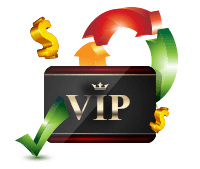 Players like to get something back, and most of the top online casinos also have their own rewards or VIP programs which give loyalty bonuses to players that frequent their site enough. The benefit of these is that, unlike sign-up and reload bonuses, there is usually no "catch" with wagering X amount of money after you receive the bonus, and often it is yours to keep.
Loyalty programs vary wildly from casino to casino, but typically involve multiple status tiers that you can advance through by wagering a certain amount of money in a specific period of time (e.g., wager C$5000 in a year for Silver Status). Many others calculate status by the number of reward points you collect, whereas usually something like 1 point is awarded for every dollar you wager, 100 points for every tournament you enter, and so on. These points and statuses can then be used to enter into exclusive VIP tournaments, redeem for rewards, or even exchange for real cash.
How to Find and Get Them
We have scoured the internet for the online casinos and poker rooms with the best online bonuses and listed them here for your enjoyment. Take a look at our reviews and find the one whose bonuses (along with game variety and security) appeal to you most, and sign up for that initial offer today. Another good place to look for bonus information is on the casino sites themselves. Bonuses are worth shouting about, and you'll very easily be able to make a quick comparison of what the different casino sites are offering.
And because casinos want you to get these bonuses so that you will play (and continue playing), there is no trick to actually getting them. For sign-up bonuses it's all but automatic. For the other kinds, including VIP program rewards, you'll usually receive an alert when you log in saying that you are eligible for a bonus, and that you can redeem it by doing nothing more than going to your account page and clicking 'Redeem'.
Again, our experts have found and listed the best online casino bonuses on our review page to save you time, so claim yours and start playing today!