Analysis of Major League Baseball Injuries in the 2017 Season
Although Tom Hanks as Jimmy Dugan proclaimed in "A League of Their Own," "There's no crying in baseball," there certainly is room for injuries. From 1998 to 2015, over 460,000 days (or around 25,000 days annually) were lost by injured players on the disabled list (DL) – and the numbers have continued to rise.
But how are these professional ballplayers getting injured? Are specific positions more likely to invite injury than others? We drilled into the data behind injuries suffered across MLB to better understand these trends. Read on to see if your favorite team is really afflicted with an injury bug or if your perception may be a little off base.
Where Does It Hurt?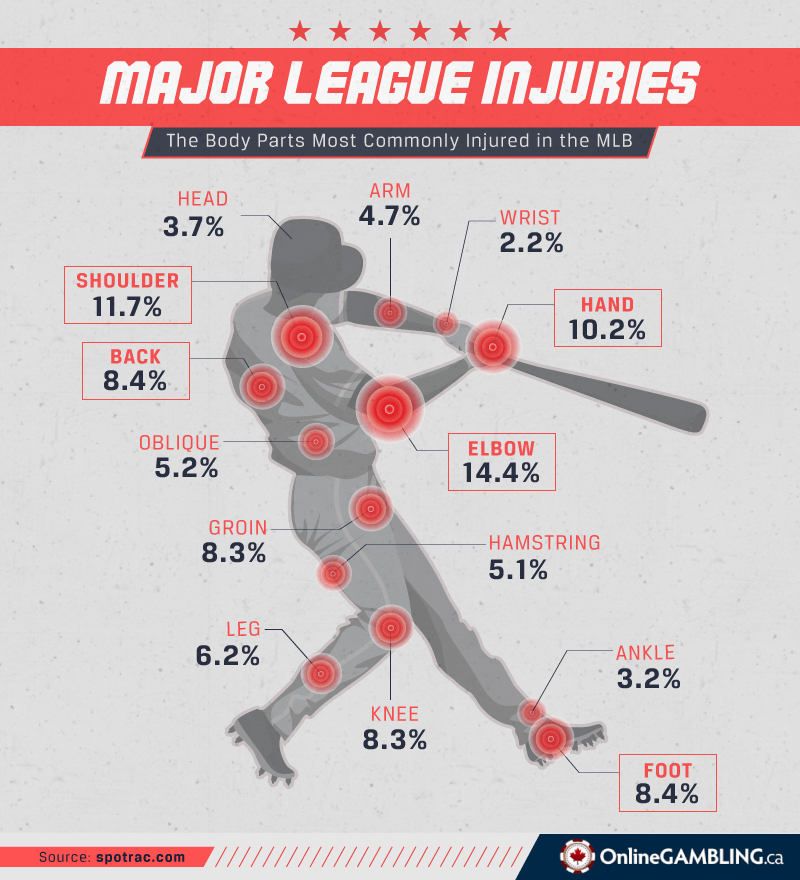 "Ouch, my elbow!" You wouldn't expect to hear any professional athlete utter such an exclamation, but it was the most common injury site among MLB players. Several of these injuries – representing more than 14% of injuries recorded in the 2016-17 season – affect pitchers. Due to the frequency of these specific injuries, like "thrower's elbow" and an ulnar collateral ligament strain, the MLB is currently investing in research in partnership with the American Sports Medicine Institute to understand if lowering the mound would help.
Wrist injuries were the least common, making up just over 2% of injuries experienced by players. These injuries affected players like Oakland A's shortstop Marcus Semien, whose wrist fracture sidelined the player for several months. Chicago White Sox pitcher Carlos Rodon injured his wrist more embarrassingly: tripping on his way out of the dugout. Ankle injuries and documented concussions resulting from head injuries rounded out the three least common injuries that sent players to the DL in the 2016-17 season.
Zero Days Since Injury?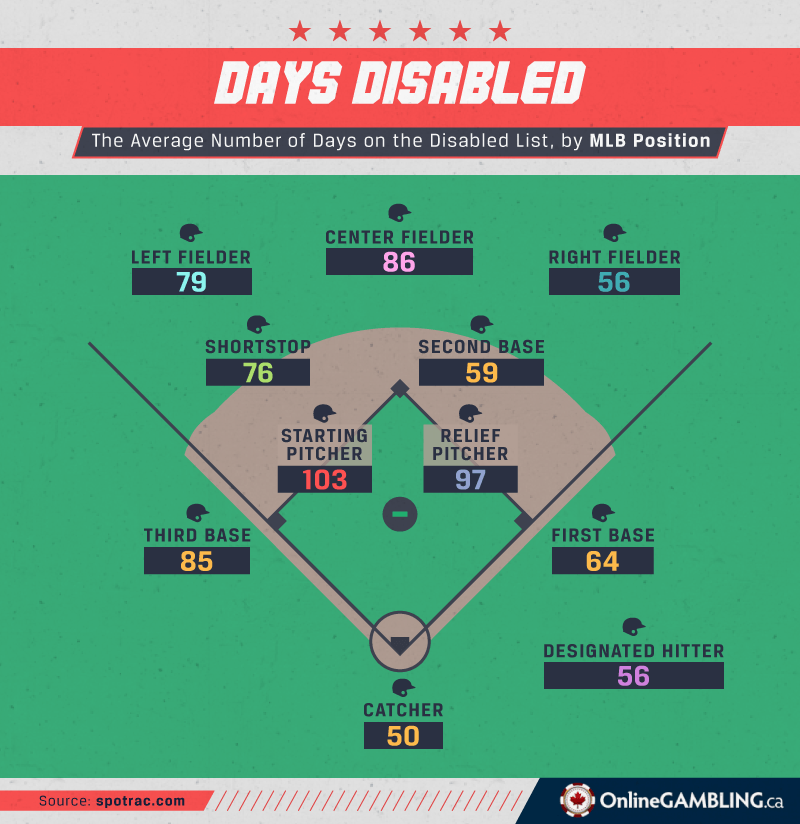 The most common injuries for a modern pitcher is a tear of their ulnar collateral ligament, which is caused by the repetitive motion of throwing and can result in the need for Tommy John surgery. This is why a starting pitcher can have, on average, the longest amount of time spent on the DL. It can take up to two years before a player receiving this treatment is ready to pitch in a game. This is better, however, than the alternative that existed before TJS: retiring with a "dead arm." New York Yankees pitcher Michael Pineda is recovering from undergoing surgery in July 2017, which means fans may not seem him back on the mound until after the 2018 All-Star break.
While catchers may spend the least amount of time, on average, on the DL, their position is one where rules are being enacted to prevent injuries grabbing headlines in other professional sports. The Buster Posey rule, enacted by MLB following the 2013 season, aims to reduce collisions at the home plate in the hope of avoiding concussions and reducing traumatic brain injuries. There are even some examples of players switching positions, like retiring Pirates utility player and former Tampa Bay Rays catcher John Jaso, who turned his back on being a catcher due to concussions.
Plagued by Injury

The San Diego Padres have witnessed the most days lost to injury in 2017, with an average of 147 days. It took 17 players to accomplish this feat. Over the 2016-17 season, the Padres saw newly acquired pitcher Jered Weaver make his way onto the DL after nine starts. His left hip caused Weaver so much pain that the Padres placed him on the 60-day disabled list, only for the pitcher to announce his retirement from baseball after struggling to regain fitness.
Keeping it in the National League, the Los Angeles Dodgers saw the next most players head to the DL over the past few seasons. Pitcher Brandon McCarthy made several trips to the DL for both shoulder and knee injuries. He had been unable to complete an injury-free season since 2015 and required Tommy John surgery that same year. Perhaps, given his history, the Dodgers allowed him to head to the Atlanta Braves. Despite the number of players injured this season, the Dodgers made it to the World Series only to succumb to the Houston Astros in Game 7, losing 5-1.
Pains Are a Part of the Game
If you're raising a future professional baseball player or just drafting for your fantasy league, be careful when it comes to pitchers. Frequently sidelined with season-ending elbow injuries, they are suffering more than any other position. And keep in mind that certain teams seem to struggle more than others in keeping their players healthy. Teams like the Detroit Tigers and St. Louis Cardinals – with only nine and 11 players sent to the DL during the 2016-17 season, respectively – might be the ones to keep an eye on.
Methodology
We collected data from spotrac.com on the number of days lost to the disabled list during the 2016-17 MLB season. Additional information collected includes the number of injuries by body part, position, and team. Team-specific information, such as the total number of wins in the 2016-17 season, was pulled from baseball-reference.com.
Sources
Fair Use Statement
Batter up! We'd love to see the findings from this project shared with your own readers for any noncommercial use. Just ensure a link back to this page to avoid any foul balls and to make sure our contributors get credit for their work.