Odds of Injuries in the NFL

There's no doubt about it – American football is a classic contact sport, with injury not only being possible but a regular occurrence. Landing on injured reserve (IR) was once a season-ending designation; a label placed on a player with a major injury whom the team didn't expect to return. IR, though, means a player has banged himself up pretty good and possibly faces surgery or an extended time of convalescence and recovery.
Let's take a look at how high the odds of injury are across the NFL over the last two seasons, and how landing on IR can even be drastic enough to change the face of a franchise. We're looking at the IR list of the NFL to report injuries, since they tend to be the most serious, but looking over our research, it's apparent that your odds of getting injured while playing football remain pretty high.
Crunch Time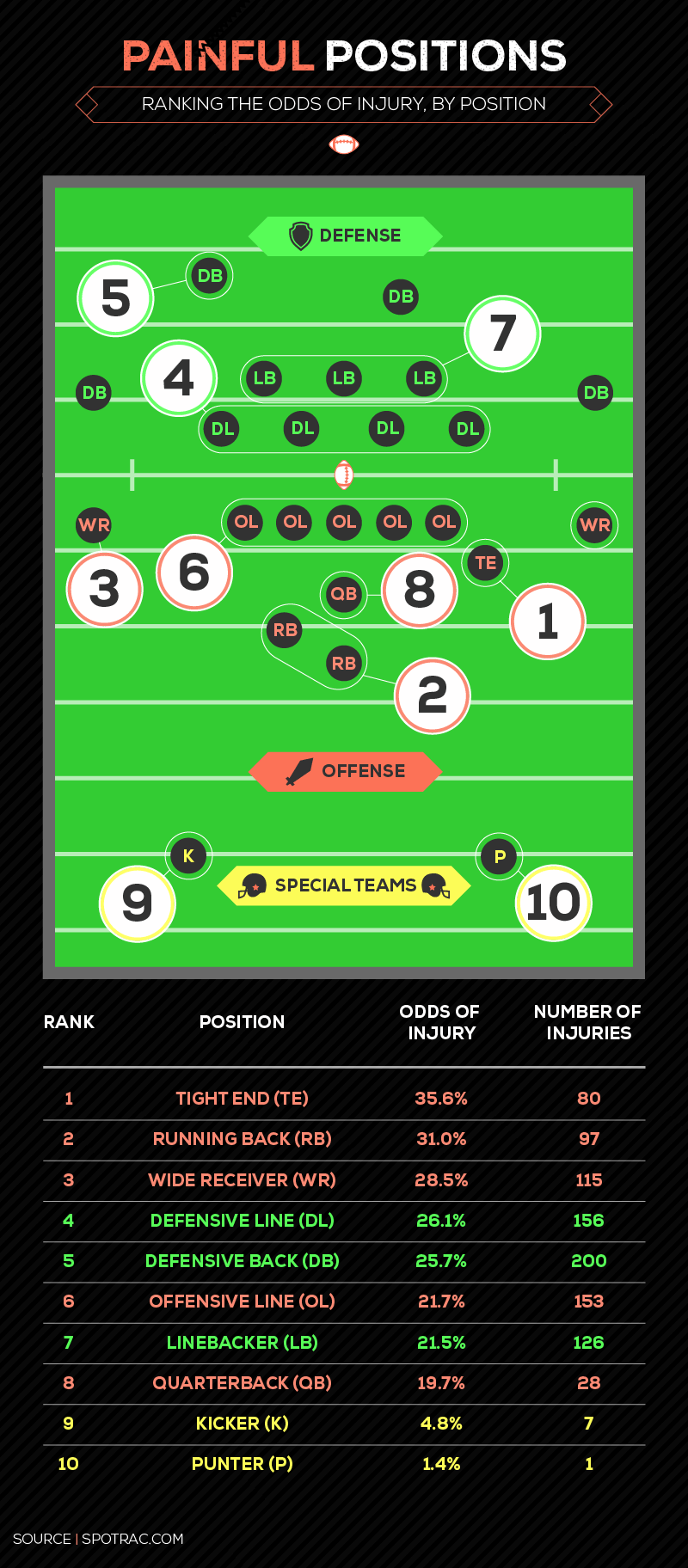 Some NFL positions are more prone to injury than others. Kickers and punters, as you may imagine, shoulder the injury burden the least, based on infrequent contact that is the nature of their positions.
On the flip side, though, the injury bug bites some positions far more frequently. Over the two-season span we looked at, tight ends (TE) clocked in at No. 1 overall for injury odds – at a 35.6% rate of joining the injury reserve list. Right behind them were running backs (RB) at 31%. Rounding out the top three was wide receivers (WR) who had an injury incidence of 28.5%.
The positions with the lowest chances of injury included the quarterback (QB) at just 19.7%. The other two, though – the kicker (K) and punter (P) – go on IR at relatively minuscule rates (4.8% and 1.4%, respectively).
Stacking up the injuries by team

You'll notice that some teams had far greater odds of experiencing serious injury. Comparing the most afflicted with the least, there is a whopping 104.8% difference in injury odds between Baltimore and Oakland. While teams averaged 30.3 IR list designations over this time period, your odds of injury could be significantly higher if you're playing for the Colts, the Bears, the Bills, or the Ravens.
Baltimore got the top prize in this dubious category, as they sent 24 offensive players and 24 defensive players to IR during this time. While both offensive and defensive players had equal chances of serious injury some teams had worse luck on one side or the other of the ball.
New Orleans, for example, sent 15 offensive players to IR during this time, but nearly twice as many defensive players (28). The Colts also suffered more on the defensive side – 19 defenders as compared to 12 offensive players. Pittsburgh, however, had more injuries to their offense – 17 compared to 11. They sent two special teamers to IR as well.
The team with the fewest IR stints during this time was the Oakland Raiders: one special teamer, five offensive players, and nine defensive players. Green Bay was also pretty far down the list, with eight each from the offensive and defensive side, plus one special teamer.
Why does it hurt?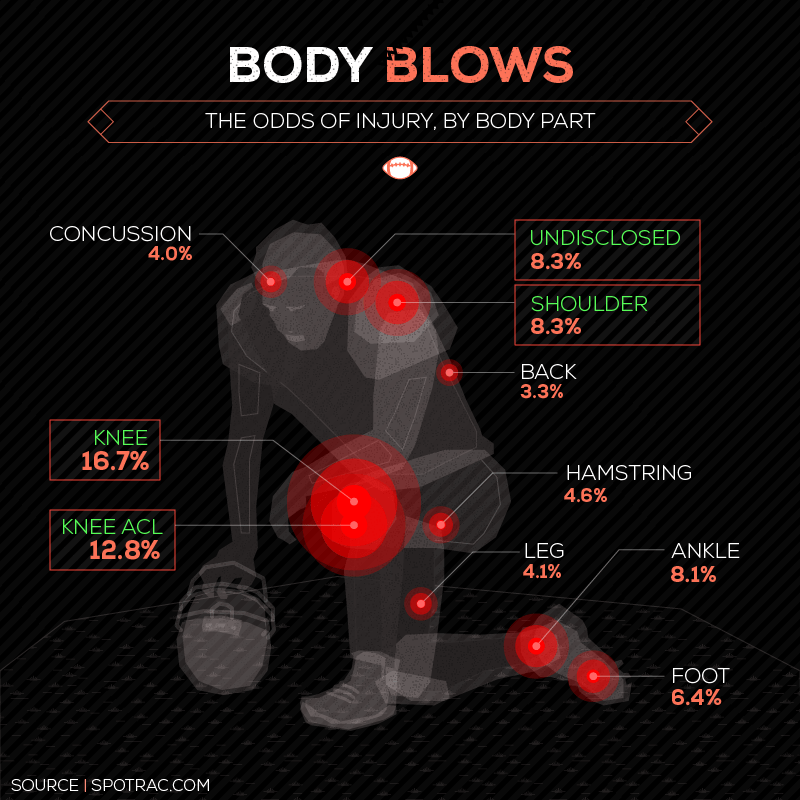 Some body parts are unfortunately more prone to injury than others. If you guessed knees bear the brunt of injuries in the NFL, you're right. It's not a shocker, then, that the knee topped our list of the most common injury spots that seriously affected players during this time. In fact, based on records of reasons to go on IR, your odds of injuring your knee (16%) are 122.7% higher than missing game time due to a concussion (4%).
A huge chunk – over a quarter – of IR stays was the result of a knee or ACL injury (over 16% were due to the knee, and almost 13% were due to an ACL injury). The next most common injury spot was the shoulder at 8.3%.
The next group of most common injuries involved the leg or foot in some manner. A serious ankle injury took place a little over 8% of the time, followed by foot (6.4%), hamstring (4.6%), and leg (4.1%).
Concussions fell next on the list. With the NFL's relatively new concussion protocol, the league itself is paying more attention to players who may be suffering from one. Emphasis has been upped for teams and their staff to recognize the symptoms and assess these players as soon as possible. Concussions came in at roughly 4% of IR stays.
Who's who on IR?

No NFL team is immune to injury, whether it's one that keeps a player out of a game or ends his season. Some teams, as noted above, have had poor luck when it comes to the injury bug, but there is not a single team left at the end of the season with their starting-day roster 100% intact.
While some of these big-name players have only been on the IR once, some are unfortunate enough to have had multiple IR stints. Those with this dubious distinction include Bruce Gradkowski (Pittsburgh), Lonnie Ballentine (Houston), D'Juan Smith (Tennessee), Chaz Breen (Dallas), Damian Swann (New Orleans), and Ifeanyi Momah (Arizona).
Other notable stars recently affected by injuries include J.J. Watt going on the Texans' IR early in the 2016 season. Although Houston rallied through the season and won a playoff game, they still missed his impact during the course of the year. Even Jamaal Charles, the all-time rushing leader for the Chiefs, struggled to stay healthy (and off IR) over the last couple of seasons in Kansas City, which ultimately led to his release after the conclusion of the 2016 season.
Injuries Happen
While injuries are completely undesirable, they happen to best NFL players, and for some teams, they happen often. The odds of serious injury resulting from playing football is pretty high when looking over NFL play over the last two seasons. Going on IR can lead to tough times on the field, but it can also lead to discovering how good a depth chart really is.
Methodology
Player injury information was gathered from spotrac.com. Player position information collected from individual team rosters.
Sources
http://www.espn.com/blog/nflnation/post/_/id/200715/nfl-passes-bills-proposed-change-to-injured-reserve-rules
http://www.mdedge.com/amjorthopedics/article/111260/knee/knee-injuries-american-football-epidemiological-review
http://www.si.com/nfl/nfl-concussion-protocol-policy-history
http://www.sbnation.com/nfl/2015/11/23/9785136/chicago-bears-david-fales-jimmy-clausen-roster
http://www.cbssports.com/fantasy/football/news/bengals-aj-green-placed-on-ir/
http://www.nfl.com/news/story/0ap3000000711263/article/texans-place-jj-watt-back-on-injured-reserve
http://www.upi.com/Sports_News/2016/09/28/Washington-Redskins-place-S-DeAngelo-Hall-on-IR-bolster-o-line-with-John-Sullivan/2051475036966/
http://www.espn.com/nfl/story/_/id/18181048/chicago-bears-quarterback-jay-cutler-shoulder-surgery-headed-injured-reserve