Who is Leading the League in Likes?

NFL superstars are more accessible than ever. No, we don't necessarily mean they're doing more meet and greets and walking up into the stands on game day, but the advent and popularity of social media gives ordinary fans a way to get to know NFL players in ways our parents and grandparents could have only dreamed about back in the day.
We took a look to see which NFL players are winning – not just on the field, but in the social media game. Some players, and teams as a whole, have a ton of social media star power. Where does your team stack up?
The Stars Are Shining Bright on Instagram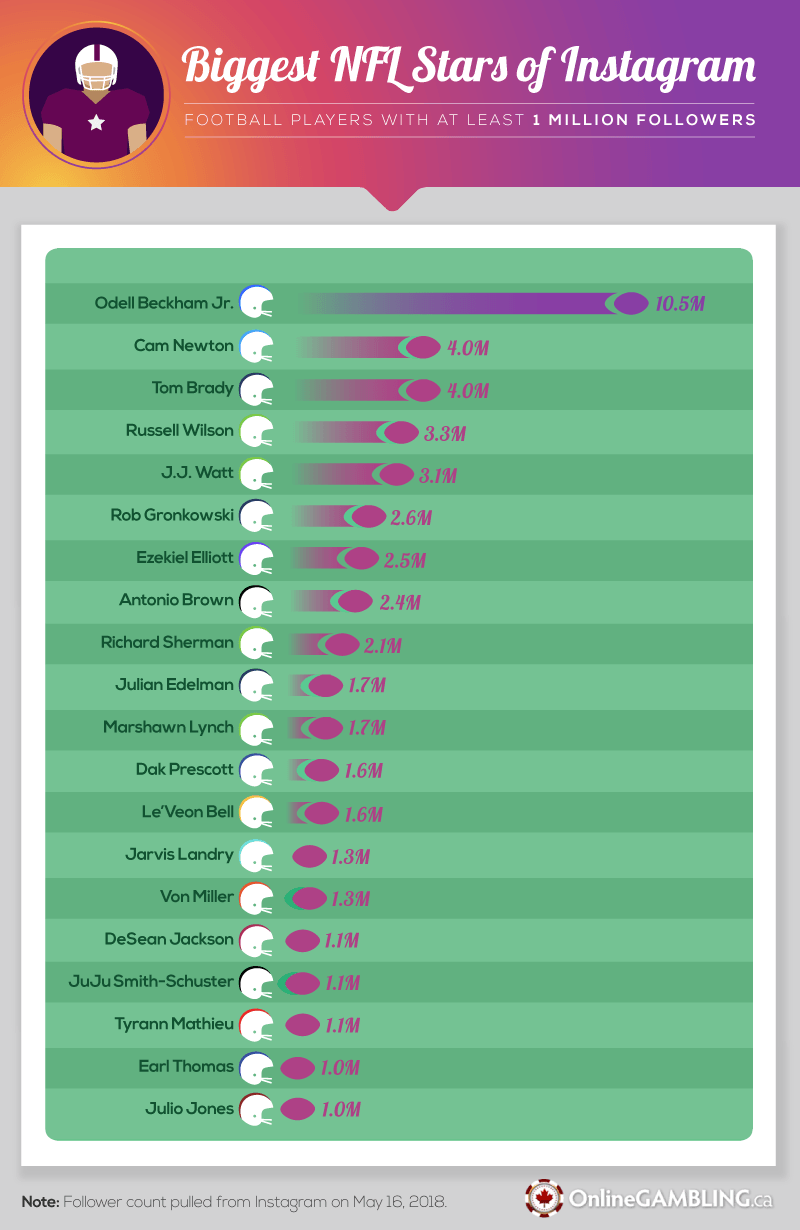 At the top of the "Instagram followers" heap is Odell Beckham Jr. with a whopping 10.5 million followers. This is more than double the amount of followers of the two players next in line – Cam Newton and Tom Brady both have around 4 million followers each. While OBJ's numbers aren't quite as high as some of the highest followed accounts on Instagram (musician and actress Selena Gomez has around 138 million, Real Madrid footballer Cristiano Ronaldo has 128 million, and comedian Kevin Hart has close to 60 million), it's still quite a few, especially when compared to other NFL players. Beckham posts pics and videos on Instagram often, even during the offseason, and his follower count has definitely not gone unnoticed by the Giants wide receiver – he posted a "thank you" celebration video dancing with his dogs back in February.

J.J. Watt is another player who has a ton of Instagram followers (3.1 million and counting). He's not only a fan favorite for the Houston Texans due to his extraordinary defensive prowess, but his off-the-field work has not gone unnoticed – it's probably made him an even more popular figure in H-Town and elsewhere. When Hurricane Harvey brought disaster to Houston in 2017, Watt quickly set up a massive fundraising effort that brought in more than $37 million among over 200,000 donors. His efforts began on social media where he was able to easily reach tons of fans.

Which Teams Are Tops on Instagram?

As we looked at the average number of followers of the top five players per team, it's no surprise that those teams were all tops in the IG followers department. The New York Giants have far and away secured the top spot here, no doubt buoyed by Odell Beckham Jr. and his gargantuan follower pool. The Patriots are not terribly far behind (Tom Brady and Rob Gronkowski have fans everywhere), followed by the Steelers. The Cowboys and Niners make an appearance on our list as well.

However, there are teams that don't have a ton of Lombardi Trophies on display in their stadium and haven't been around since the early days. The Houston Texans, for example, are one of the newer NFL teams, getting their start in 2002. While they didn't reach the playoffs until the 2011 season and have yet to win a championship, they've slowly racked up respect and admiration from local fans and many across the nation alike. The Seattle Seahawks do have a championship under their belt, and it's likely this recent spate of success (they haven't missed the playoffs much since 2003) that contributes to player popularity across social media.
How the Stars Line Up

We added the follower counts from the top five players from each team and tallied each division to see how it played out in a conference-wide sweep of Instagram followers. The NFC does hold a pretty wide lead over the AFC (they have over 9 million more followers in the NFC as a whole). Division by division, the NFC East holds the table at an average of over 1.1 million followers; the NFC West follows with nearly 678,000 followers. The NFC East, of course, is home to some big-market teams – including the Giants, the Washington Redskins, the Philadelphia Eagles, and the Cowboys – with huge fan bases,.
The AFC big-name teams, such as the Patriots and the Steelers, don't have the same high averages that these NFC teams do. The Patriots are in the AFC East and have plenty of followers courtesy of some of their more popular players (remember, Tom Brady and Rob Gronkowski?). The rest of the division (the Dolphins, Bills, and Jets) isn't quite as popular, likely due to the dominance of the Pats in recent years. Same story for the AFC North – the division of the Steelers. They have tons of fans, of course, to go along with their six championship wins. The Bengals, Browns, and Ravens may be a little less popular than those from Steel City.
Remember, we only looked at the top five players from each team, so we can't say with conviction that NFC teams are way more popular than AFC teams on social media – it does look that way from these top five counts, however.
NFC Insta Stars

We looked at each division within the NFC to find their top five guys based on Instagram popularity. As mentioned before, OBJ tops the list in the NFC East at 10.5 million followers. Next on the list may be a little surprising, as he has yet to play a snap in the NFL – running back Saquon Barkley who was drafted No. 2 overall in the 2018 NFL draft.

For the Cowboys, running back Ezekiel Elliott grabs the top spot as he prepares for his third NFL season. Elliott nabbed the rushing title his rookie year with 1,631 yards and remains a popular player despite a suspension-shortened 2017 season (when he still managed to rack up nearly 1,000 yards).

In the NFC West, Seattle quarterback Russell Wilson has the most followers at 3.3 million. The second most followed player in this division? Cornerback Richard Sherman with 2.1 million. He used to be teammates with Wilson in Seattle but has since departed for the San Francisco 49ers. Another popular player who will take the field for a new team this fall is Rams cornerback Aqib Talib, who spent the last few seasons of his career in the AFC West.

In the NFC South, the top spot belongs to Carolina Panthers quarterback Cam Newton. Other players making an appearance are Jason Pierre-Paul, who recently departed the New York Giants for a warmer climate and a new team in Tampa.
The NFC North is the last in this group and has the lowest overall averages of the NFC. Quarterback Aaron Rodgers unsurprisingly holds the top spot with 830,000 followers, about twice as many as teammate Ha Ha Clinton-Dix, who has one of the best names in professional football (yes, we know that Ha Ha is a nickname – it's short for Ha'Sean). LeGarrette Blount leads the Lions in Instagram followers, perhaps bringing along those he racked up while part of the New England Patriots.
AFC Insta Stars

As with the NFC, we looked through the AFC to track which players had the most Instagram followers. The AFC East leads the way here, with the likes of Brady and Gronk dominating the top of the list. Other division favorites include Danny Amendola, who recently left New England for Miami and leads that team in Instagram followers. Newcomer Sam Darnold shows up on this list – the Jets quarterback was just drafted No. 3 overall, and Gang Green has welcomed him with open arms.

Pittsburgh Steelers wideout Antonio Brown tops the AFC North Insta stats, along with teammate Le'Veon Bell and JuJu Smith-Schuster. Yet another 2018 draft pick shows up here: Baker Mayfield, the No. 1 overall pick, selected by the Cleveland Browns. Interestingly, Justin Tucker is the third most popular Baltimore Raven on Instagram – he's a placekicker. However, he's no ordinary kicker, as he's one of the few in history to connect on field goals 60 yards or longer and is one of the most accurate kickers in NFL history. That's worth an Instagram follow, right?
In the AFC South, the aforementioned J.J. Watt is top dog in Instagram followers, closely followed by new Texan Honey Badger to Houston (of course, we mean cornerback Tyrann Mathieu). Leonard Fournette, who was a rookie running back for the surprising Jaguars last season, has a solid 746,000 Instagram followers, while the Colts' top Instagram player is backup-to-starter quarterback Jacoby Brissett.
In the AFC West, former Seahawks running back Marshawn Lynch has the most followers (1.7 million) as he prepares for his second year with the Oakland Raiders. Denver defender and backbone of the No Fly Zone, Von Miller, has 1.3 million Instagram followers. Miller's teammate, Marquette King, makes an appearance here, which is interesting as he's a punter. Last season's rushing title holder is Kansas City's running back Kareem Hunt who makes an appearance on our list as well.
Offense or Defense?

Offensive players dominate the most followed players on Instagram. This isn't a huge surprise, as these flashy playmakers make the headlines and wind their way into our hearts. Wide receivers get tons of recognition because they make the huge sporty touchdowns that land on the highlight reel and could account for our findings here – they have the highest average followers on the offensive side of the ball. Running backs are next (again, they're the bruising crushers who have to burst their way through the defensive lines to grab scores), followed by the field general, the guy who gets everything started: the quarterback.
There is a steep drop-off after the QB before you find tight ends, who are definitely important, yet often underappreciated. Many tight ends do make the showy touchdowns and big gains, but they're also important in the trenches as they often do a lot of blocking. Finally, offensive linemen are last on the list, but they may be the most important unit of all – without a good offensive line, there are no holes opening up for the running back, and no time for a quarterback to set his feet and send the ball flying (basically because he's on his back), which means the offensive unit as a whole will stink.
Defensive players are less followed for similar reasons overall. Since they're in charge of stopping touchdowns, they're often seen as a unit rather than as individual players. Unless they make big plays, they don't get a ton of recognition by the average fan. Cornerbacks are the most likely to be followed, however, because they're the guys in charge of shutting down the wideouts – and they can also grab an interception or two as a result. Same for the safeties.
Defensive ends and outside linebackers are next on the list and generally get recognized if they disrupt pass plays by sacking the quarterback. Von Miller is a good example of a popular defensive player for that reason – he's an outside linebacker and has 83.5 sacks over seven seasons of play.
Conclusion
There are a number of factors that come into play when it comes to analyzing Instagram followers of NFL players. Some teams have a much bigger market than others (New York compared to Kansas City, for example), and some players are more active on social media than others. Also, off-the-field activities, such as charity fundraising, get accolades and, eventually, social media follows from fans. Some positions are more prone to recognition than others, such as the flashy wide receiver compared to the steady, but no less important, offensive lineman or linebacker.
As social media continues to evolve, and the average fan can get a little more insight on their favorite NFL players, it will be interesting to see how this all plays out over the next dozen years.
Methodology
We looked at the follower count of NFL players on Instagram. Using team rosters as of May 16, 2018, we compared follower counts of the most well-known players to pull the top five players per team. We only used verified Instagram accounts. Players without official accounts (Ben Roethlisberger, for example) were not included in the study. It is possible that follower counts have changed from when they were pulled which could impact which players would currently rank within the top five for their respective teams.
Sources
Fair Use Statement
Surprised by which NFL players are "doing it for the 'Gram"? Feel free to share the results as long as it's for noncommercial purposes. All we ask is that you link back to this page, so others can learn which players and teams are making the most noise on social media.