NBA & Instagram
Instagram is a social media tool used by many, but to some it is an entire career. Scroll down to read how much the top NBA players can earn from a single post, and how this shapes up against some of the most famous, celebs and sports people across the globe.
The Biggest NBA Players of Instagram
Whether it's shooting hoops or enjoying their multi-million dollar homes, it's safe to say the players know how to entertain their audiences, on and off the court. However, the entertaining doesn't come at a cheap price, with the likes of LeBron James earning as much as $401,000 per Insta post!
Name
Insta name
Insta followers, M
Money per post
NBA Players vs The Insta Stars
Take a ride with us through the most followed stars of Instagram. Cristiano Ronaldo easily tops the list with 186.9 million followers, ahead of Dwayne Johnson (AKA 'The Rock') in second with 159.6 million. But how do the NBA Insta stars compare?
Top 5 NBA players on insta

Top 5 celebrities on insta

Top 5 soccer players on insta

Top 5 athletes on insta
Name
Insta name
Insta followers, M
Instagram Earnings Compared
Instagram is a big engagement powerhouse, meaning that users are forever desiring more fresh content. As a result, the big players of Insta can earn some top $ from the popular platform. LeBron James is the wealthiest NBA player in terms of charge per post, earning a crazy $401,000 for each one. However, that is easily trumped by the youngest Jenner Kylie, who claims $1,266,000 for every sponsored post on Insta.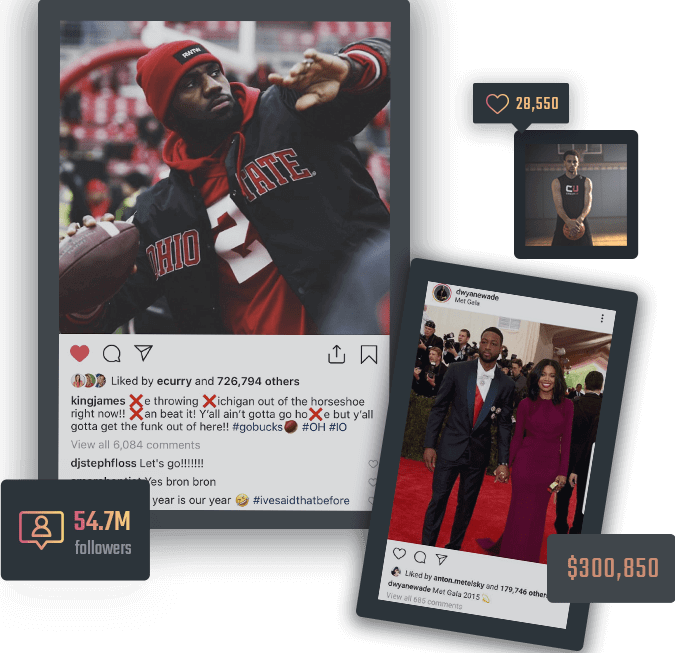 NBA player
NBA player money per post
russell westbrook
$85,000
cristiano ronaldo
$1,300,000
dwayne johnson
$1,100,000
kim kardashian
$1,000,000