Limited offer
Save your relationship now, before it's too late
#SPRAY20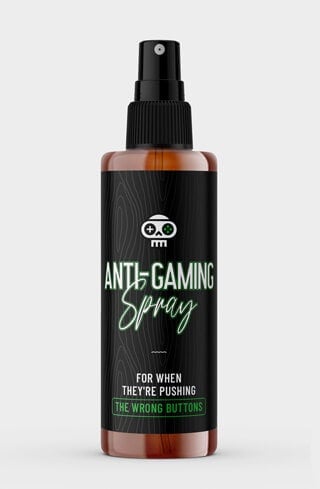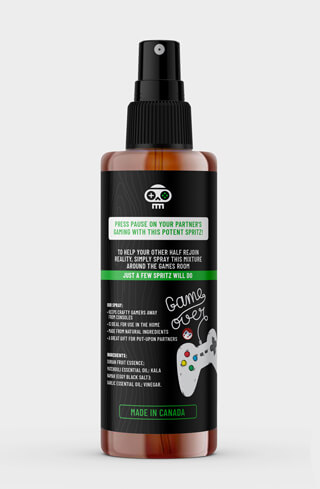 Anti-Gaming Spray
For When They're Pushing The Wrong Buttons
150ML Product ID: ANTIG001
By

$5.99
Standard Delivery
$3.50 for Standard Delivery
Due to the nature of this product, we are unable to offer our usual 30-day, no-quibble returns policy.
For more information on our delivery and/or returns policy, please email contact@onlinegambling.ca
Our 'Anti-Gaming Spray':
Keeps crafty gamers away from consoles
Is ideal for use in the home
Made from natural ingredients
A great gift for put-upon partners
Use Anti-Gaming Spray to stop your partner playing video games
It's time to take back the controller. This spritz will repel anyone who's reaching for the console…
Created with fed-up family members in mind, this stench has been developed to keep the gamer in your life from getting hooked on the latest release. Just remember to press save before you spray…
*Tested on 35 un-satisfied relationships in a consumer study over a period of 5 weeks
Is your loved one glued to Grand Theft Auto? Or fascinated by Fortnite? To help your other half rejoin reality, simply spray this mixture around their games room — just a few spritzes will do.
The bottle is purposely designed to blend in with the other bottles on your shelf! The subtle packaging means that your partner won't suspect a thing!
Store in a cool, dry place, preferably away from direct sunlight.
Avoid any contact with eyes or mouth. If product touches these areas make sure you wash immediately. Always wash your hands after use to avoid potent smell and a suspicious partner.
Durian fruit essence; patchouli essential oil; kala namak (eggy black salt); garlic essential oil; vinegar.
Made in Canada.
Please remember not to rely on the Anti-Gaming Spray to fix your relationship. Should you or someone you know be experiencing a serious gaming problem, please see further advice provided by experienced therapists here. Furthermore, please see our Problem Gambling page and seek the necessary help.
One spray is all it takes!
I've had so much fun using this on my husband. The controller is boxed away before I even have chance to spray these days. Now we laugh about it — I spray instead of shouting!
This spray saved my relationship!
It's no fun when your girlfriend would rather spend time with Geralt of Rivia, than you. He may have cool swords but I have a secret weapon…this spray. The stench is incredible!
We fell out of love…with video games
My girlfriend and I both loved video games. But we have different tastes…we weren't console compatible. This spray changed it all. It stinks!! Now we associate gaming with this god awful smell.